Hearth & Home
Anniversary Kake
(3.31)
Created in celebration of the 1st anniversary of the Hearth and Home line of tobaccos. This is a special blend of Virginias ranging from lemon through brown, combined with a liberal dash of St. James perique, presenting an exquisite aroma and naturally sweet flavor.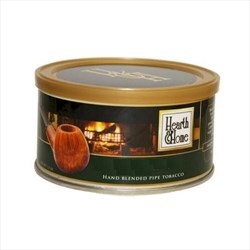 Where to Buy
SmokingPipes.com
Details
| | |
| --- | --- |
| Brand | Hearth & Home |
| Series | Signature Series |
| Blended By | Russ Ouellette |
| Manufactured By | Sutliff Tobacco Company |
| Blend Type | Virginia/Perique |
| Contents | Perique, Virginia |
| Flavoring | Rum |
| Cut | Krumble Kake |
| Packaging | bulk, 1.75 ounce tin |
| Country | United States |
| Production | Currently available |
Profile
Strength
Mild to Medium
Extremely Mild -> Overwhelming
Flavoring
None Detected
None Detected -> Extra Strong
Room Note
Pleasant
Unnoticeable -> Overwhelming
Taste
Medium
Extremely Mild (Flat) -> Overwhelming
Please
login
to post a review.
Displaying 1 - 10 of 30 Reviews
| Reviewed By | Date | Rating | Strength | Flavoring | Taste | Room Note |
| --- | --- | --- | --- | --- | --- | --- |
| | May 30, 2009 | | Mild to Medium | Mild to Medium | Mild to Medium | Pleasant |
The chemical balance that makes up our personal taste is a funny thing. I liked this blend but not nearly as much as the AJ's Vaper. Yet I think this one might be Russ Ouellette's biggest triumph. This stuff seems flawless but lacks the quirky personality of AJ's that I find so intriguing.

Enough has already been said by others about this blend. I think every Vaper lover should try it, and I think most people will prefer it to AJ's. It's smoother and seems more refined. It just doesn't excite my tastebuds as much.

Russ Ouellette is very quietly making a claim to the Vaper crown. This blend is quite a statement.
16
people
found this review helpful.
| Reviewed By | Date | Rating | Strength | Flavoring | Taste | Room Note |
| --- | --- | --- | --- | --- | --- | --- |
| | Apr 11, 2008 | | Mild | None Detected | Mild | Very Pleasant |
I had to get some of this tobacco after reading all of the positive reviews. I can't give it four stars due to the lack of strength, but can certainly agree that it is a very fine combination of Virginia and Perique. I was a little concerned as I neared the bottom of the bowl because the sweetness left and the Perique got a little too strong for me. Subsequent bowls were smoked to just past the halfway point and then dumped. Some may say that's a waste of tobacco, but, its the way I best enjoyed this blend, thank you very much.
11
people
found this review helpful.
| Reviewed By | Date | Rating | Strength | Flavoring | Taste | Room Note |
| --- | --- | --- | --- | --- | --- | --- |
| | Dec 09, 2013 | | Medium | Mild to Medium | Medium | Tolerable |
ORIGINAL REVIEW 12-9-2013

I just finished off the 8 oz I purchased nearly two years ago. I bought it bulk so the presentation was not of perfect rectangular cubes more like they were tumbled to say the consistency of shredded wheat after milk has been at it awhile.

The blend smokes well, which is odd as it is really moist. It seems impossible to dry hinting at a blend heavily coated with humectants. I don't get a chemical taste at all when I smoke it, rather the spicy dried fruit tastes one would expect from a VaPer. This one is pretty heavy on the perique, which is a plus to me.

Overall, I liked this blend, but did not love it. Will I buy more? Perhaps. There are just too many more Vapers I would like to try first. There are also Vapers that I prefer to this one. Mainly, Escudo, Dorcester, Dunbar, Filmore and Reiner LGF.

I do know that some people, whose tastes and opinions I respect highly really love this tobacco, so with that I do recommend it as it is likely it will be a hit. I think my biggest problem with this one is in the Virginias themselves. The Va seems to be of a lesser quality than most of the Vapers I prefer. By loading up the Perique it is less apparent, but if I want to get hammered by Perique, I would much rather light up some Fillmore. So three stars, but two to my personal tastes.

UPDATE 2/9/2018

I just finished about two ounces of an 8 oz can of this I purchased and while it has not really changed my rating on this blend, I thought it appropriate to point out that this blend has changed since I first reviewed it. The two changes noted are of the actual shape and consistency of the kakes themselves and the way the topping was applied or maybe just my perception as to how it is applied.

To start, the shape and consistency. The first time I tried this blend the kakes looked like little rectangular bricks or, if you have a dog, the shape of the heartworm medicine you feed them monthly. Now the kakes are basically the flake kakes that sutliff makes. This is more a difference in presentation than anything else. As to the consistency though, this batch was drier than that first batch I had. In any case, it still burned with no issues. So these are minor changes. I just wanted to note them so future readers understand my earlier description of the blend.

As to the topping, I didn't even notice it last time. This could have been due to the fact that I bought it in bulk and I think this was the case due to how quickly it flashed from the tin.

My first few bowls were pretty aromatic with a spicy rum type of topping. It almost overwhelmed the leaf. If that persisted throughout the full 2 ounces I would have likely dropped this to 2 stars, but it didn't. It flashed very quickly and left me with the same taste I enjoyed on the first go around 5 years ago.

This is actually an opposite effect to what I experienced with Classic Burley Kake. I am not sure if this is a problem P&C has with toppings across the board as I really haven't smoked much of their aros, but the same thing happened with Classic Burley kake. The difference was when the topping left CBK, it tasted like cardboard. With AK, it just tasted like a good VaPer after the topping departed.

Take these new revelations for what they are, but I still recommend this blend for a good VaPer.
9
people
found this review helpful.
| Reviewed By | Date | Rating | Strength | Flavoring | Taste | Room Note |
| --- | --- | --- | --- | --- | --- | --- |
| | Jul 27, 2016 | | Mild to Medium | Very Mild | Medium | Pleasant to Tolerable |
Smoking Hearth & Home Anniversary Kake is like eating the celebration cake of your marriage anniversary, it's tasty but it's still missing something as well as you miss being single. Recommended.
2
people
found this review helpful.
| Reviewed By | Date | Rating | Strength | Flavoring | Taste | Room Note |
| --- | --- | --- | --- | --- | --- | --- |
| | May 24, 2013 | | Mild to Medium | Extremely Mild | Medium | Pleasant to Tolerable |
This is a great VAPer. It has the sweet and the spicy, but they don't overpower. This is not a daily smoke for me, but it it tasty, and I have a couple of pipes with large bowls that seem especially well suited to this blend. There is a certain complexity to the smoke and I find I savor it in an occasional bowl. There is a whiff of a topping that I think is rum that adds a slightly heavy quality to it.

I recommend this a little higher than Rolando's Own (also a H&H). If you think you might like to try a VaPer, this is a good place to start. I suspect I will always have some of this on hand.
2
people
found this review helpful.
| Reviewed By | Date | Rating | Strength | Flavoring | Taste | Room Note |
| --- | --- | --- | --- | --- | --- | --- |
| | Mar 20, 2017 | | Mild to Medium | Very Mild | Medium | Pleasant to Tolerable |
I assume, as the name implies, that this stuff was an intact cake at some point in its life, but what I got was soft fluffy ready rubbed. There were a few larger chunks in my sample, but they crumble and fall apart with the slightest touch. It feels very soft between my fingers...sensual, almost! I thought at first that it was overmoist, but it retains that silky soft feel even after drying. The small and irregular cut means it's easy to over load your pipe...but as long as you keep that in mind and use a gentle hand, it's very easy prep and load.

It takes a couple of matches to get started, but is relatively fuss free once it's going. I mainly get typical VaPer flavors. There's a little taste of some sort of fruit that I can't identify...kiwi comes to mind, but that's not quite right. Nice subtle sweetness from the Virginias. I find Anni Kake to be very well balanced...that said, I do like perique, and Anni Kake has quite a healthy dose, IMO - peppery in the mouth, and a nice ZING! in the nose on retrohale; thus, I wouldn't recommend it to the perique-averse. As is typical for me for quality virginias to do, the flavor really ramps up and develops more complexity near the bottom of the bowl. I've smoked Anni Kake in cob and briar...as is also typical for me with Virginias, I much prefer it in a large bowled briar.

Objectively, this is fantastic stuff. As good as this young sample is, I'd be willing to gamble that it is phenomenal with some age on it. I'm tempted to pick up a couple of tins and hide them for a year or two.

Subjectively.....yeah, I like it for what it is. But it's just not the type of thing I reach for very often. While I certainly wouldn't turn it down, I don't anticipate Anni Kake making its way into my regular rotation.

originally reviewed 12/19/2012
| Reviewed By | Date | Rating | Strength | Flavoring | Taste | Room Note |
| --- | --- | --- | --- | --- | --- | --- |
| | May 28, 2016 | | Medium | Very Mild | Medium | Tolerable |
I see a few reviews stating the lack of a topping, but I have to disagree. Leaving it to air dry for a couple hours will show this...moisture seems to drop only minutely. There is a humectant/topping, but so what? It doesn't detract from the overall fine smoking characteristics. It has not ghosted my pipes, and the pure tobacco flavors are there. This a great variation on a Vaper, and a mainstay in my rotation.

Nice aroma of chocolate, figs and hay in the tin. If I have any complaint at all, it's that the Virginias are comparatively mild and mellow. Like McClelland No. 27 when you want Blackwoods. I like mine rich, red and robust as a general rule. But where the VAs lack, the perique makes up. And there's a healthy quantity of it too, though never overwhelming. It lends just the perfect amount of plum sweetness and nasal spice to keep the blend from falling flat. Also, it smokes nicely with no bite.

This is a very good blend, expertly blended as always, and I recommend all Vaper fans try at least once. I liken it to Viprati's less mature brother. It may be worthy of 4 stars, but for me it sits very well at 3 to 3.5, if only because I so enjoy the extra richness of AJs Vaper and Viprati from the same blender.
| Reviewed By | Date | Rating | Strength | Flavoring | Taste | Room Note |
| --- | --- | --- | --- | --- | --- | --- |
| | Apr 24, 2014 | | Mild | Mild | Mild to Medium | Pleasant to Tolerable |
Wow is this good! Sweet and creamy, with a citrus tang from the Virginia's and a great tingle on the tongue from the Perique. My tin arrived ready to smoke but some have said it may need some drying time. Russ knows his tobaccos! Gonna have to give more of his blends a try.
| Reviewed By | Date | Rating | Strength | Flavoring | Taste | Room Note |
| --- | --- | --- | --- | --- | --- | --- |
| | Apr 05, 2014 | | Mild to Medium | None Detected | Medium | Pleasant |
Hearth & Home - Anniversary Kake (Signature Series)

After seeing so many positive reviews, I bought a small evaluation sample from PipesandCigars, which came ready rubbed rather than in the cake form I was expecting. The tobacco did not disappoint.

First, the visual and tactile: I found the color and feel of the ready rubbed version to be reminiscent of a freshly crumbled bran muffin ... essentially a pile of soft, mildly sweet smelling semi-moist short broken ribbons of a nearly uniform med-dark brown color (with a few darker flecks present). As someone else mentioned, there seems to be a small amount of humecant present, giving the tobacco a soft and slightly spongy feel.

The tobacco packed and lit easily, and midway though the first third of the pipe, the flavors slowly began to steady and come into focus as the remainder kilned off its moisture. Given my experience with VaPrs to date, and the hefty dose of perique mentioned in the description, I was expecting a somewhat austere and mildly sweet smoke with a long peppery finish, and I was surprised instead by a mellow, buttery, and semi-sweet flavor that (for me) prominently evoked *Scottish Shortbread*, accompanied by subtle hints of bran muffin and fig. I've never experienced a butter-cookie note in a non-aromatic VaPr before, and yet there it was, and it carried all the way though the middle third as well. As I reached the bottom third, the smooth gentle salty/pepperiness of the perique finally emerged from behind the short bread, and lingered pleasantly long after the pipe was done.

This is a very pleasing smoke, and an entertaining left-of-center choice for VaPr fans looking for something a little different. Recommended. I give it a solid three stars (of 4). I'd like to give it 3 1/2, but the rating system here doesn't allow halfsies.
Pipe Used:
Grabow Freehand (Group 4) & Royalton (Group 3)
PurchasedFrom:
PipesandCigars.com
| Reviewed By | Date | Rating | Strength | Flavoring | Taste | Room Note |
| --- | --- | --- | --- | --- | --- | --- |
| | Jan 11, 2014 | | Mild to Medium | Mild | Mild to Medium | Pleasant to Tolerable |
Best to smoke this tobacco in a small cob to get the flavor, body and improve burning characteristics. Virginias blend well, and together with the somewhat sweetish-mellow perique and chocolate undertones (and sweet, tinny highlights), finds the introductory pulls on this VAPER scoring high for this smoker. Really a fantastic first impression. After the first 2/3 of your bowl, things go a bit downhill. Last 1/3 of bowl can be bitter and just really full of wet unburned tobacco. Not sure why this blend of Russ's stays so wet. Anyway, give it some time to dry, smoke it slow, take in the thick smoke and mild nicotine, and keep it in a small cob for best results. Small cob does not require much drying time at all, but if you plan on smoking in a medium to large briar, plan on lengthy drying sessions before you put it to the flame. Rating is as smoked in small cob.
Pipe Used:
small MM corn cob
PurchasedFrom:
pipesandcigars