Gawith, Hoggarth & Co.
Dark Plug
(3.72)
A blend of dark fired Virginias and Indian fire-cured with a casing of distinctive aromatics presented straight from the press in a plug.
Notes: As Dark Flake unscented but, from the cake, the tobacco is cut into bars. A very strong, but very cool smoke is the result of combining in equal proportions only Malawi dark fired Leaf and Indian dark air cured leaf. No additional flavours. You can smell in this tobacco the smokey flavour of the dark fired leaf derived from its curing process of being hung above smoky fires, and the sweeter, yet still strong 'cigar type' flavour of the dark air cured Indian leaf. Aromatics: Lakeland Essence.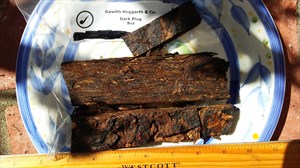 Where to Buy
SmokingPipes.com
TobaccoPipes.com
Cup O' Joes
Profile
Strength
Very Strong
Extremely Mild -> Overwhelming
Flavoring
None Detected
None Detected -> Extra Strong
Room Note
Tolerable
Unnoticeable -> Overwhelming
Taste
Full
Extremely Mild (Flat) -> Overwhelming
Please
login
to post a review.
Displaying 1 - 10 of 43 Reviews
| Reviewed By | Date | Rating | Strength | Flavoring | Taste | Room Note |
| --- | --- | --- | --- | --- | --- | --- |
| | Nov 08, 2011 | | Extremely Strong | Very Mild | Very Full | Tolerable to Strong |
G, H & Co.'s Dark Plug is not smoked for it's room note, or its ease of preparation. It is not a casual or quick smoke. Dark Plug is an English classic smoked when one has time to savor the subtle and natural flavors that mingle in its densely packed layers.

I smoke plugs by preparing it in a cube cut, pieces about 3-4 mm. No need to dry or rub out. Fill the bowl by gravity and do not pack it down. It burns easily this way.

The Lakeland essence is very lightly applied, and the occasional soapy floral notes are not a problem in this one. There is a pleasant sweetness typical of dark fired Virginias.

The nicotine, one of the strongest doses I have ever experienced, is quite evident after just a few puffs.

It pairs best with a view of the sea, and Herman Melville, and a prayer of thanksgiving to the Creator.
36
people
found this review helpful.
| Reviewed By | Date | Rating | Strength | Flavoring | Taste | Room Note |
| --- | --- | --- | --- | --- | --- | --- |
| | Feb 11, 2013 | | Very Strong | Very Mild | Full | Tolerable |
Yeah, it's got that soapy Lakeland essence, but it doesn't ruin the experience, unless you just hate Lakeland. It's not overly strong as it very mildly sublimates the tobaccos. The Virginias are a little grassy with a lot of earth, wood and tangy dark fruit, some floralness, and a touch of tart and tangy citrus, cigar and spice. The burleys offer toasted nuttiness, a little molasses, plenty of wood, and are very earthy, and from time to time as you smoke your way through a bowl, one becomes more obvious than the other in short bursts, though the earthiness is the most constant aspect. The floral and hay notes from the Virginia are complimentary to the other components. Won't bite, but has some roughness. It's very strong and full in taste. The nic-hit is in the center of medium to full. It takes a little extra work, as plug tobacco always does, but dry it a little and it will still burn slowly. Has a deeply rich, mostly consistent earthy, woody, sweet and floral, mildly rugged flavor. Leaves some moisture in the bowl, but no dottle, and requires a fair amount of relights. Puff slow and eat well first or you'll be laying back in your chair wondering what Madame Nicotine hit you with! I find it deeper and richer in flavor than the Dark Flake, and a little sweeter, too. That also goes for the pleasantly lingering after taste and strong room note.

-JimInks
30
people
found this review helpful.
| Reviewed By | Date | Rating | Strength | Flavoring | Taste | Room Note |
| --- | --- | --- | --- | --- | --- | --- |
| | Apr 25, 2018 | | Very Strong | None Detected | Very Full | Strong |
A Grand Tobacco.

Dark oily plugs look like miniature blocks of ebony wood or brown coal, which resemblance is enforced by their woodsy, earthy and smoky aroma. These noble leaves (coming mainly from Nyasaland) powerfully emanate the very spirit of the soil they've sprouted from: a thick cloud of Dark Plug smoke instantly recalls the true feel of Africa herself - robust, strong, incredibly rich, ingeniously simple, no fancy, everything being very serious and cranked up to the extremes...

Smoking this tobacco regularly is not unlike a kind of a secret esoteric ritual: the mighty dose of Nicotine makes a natural barrier against an uninitiated novice joining the circle, while a vile sidestream (you've been warned: Africa smells nothing like fancy) scares away most of occasional passers-by. So that only the fully initiated and highly experienced dare to enter the sacred hut to boldly breath the black magic in.

This mighty blend has apparently been designed with royalty (or, at least, tribal nobility) consumers in mind, since in order to smoke this tobacco properly you will need a surplus of premises in your mansion (to dedicate a room exclusively for smoking because of the mentioned vile roomnote) as well as an excess of leisure time (as the oily ebony blocks never hurry to burn down and smoking a good pipeful of Dark Plug may well take over two hours).

Of course, I give this tobacco Four Stars - and would have given a whole starry constellation if I could. But I restrain from RECOMMENDING this blend to anyone. Because the men grown up enough to smoke Dark Plug regularly are typically that kind of folks who do not rely on others' recommendations in their choices.
23
people
found this review helpful.
| Reviewed By | Date | Rating | Strength | Flavoring | Taste | Room Note |
| --- | --- | --- | --- | --- | --- | --- |
| | Jul 10, 2009 | | Very Strong | None Detected | Very Full | Pleasant |
I recently sold some of this to a gentleman who then gifted back to me a couple of chunks since I had never smoked it. Uh, thanks... I think.

Whew, this is one tough locomotive with a nicotine wallop that will stop you in your tracks. Once properly prepared for smoking (no small task), have a large supply of butane at the ready because it is a buggar to keep lit.

Flavor presentation: Anyone want to smoke a nicotine laden camp fire?

I found Dark Plug to be biteless and very cool, but its claws scratched the back of my throat and I currently have a bad case of hiccups. So, I think I'll quit typing now.
17
people
found this review helpful.
| Reviewed By | Date | Rating | Strength | Flavoring | Taste | Room Note |
| --- | --- | --- | --- | --- | --- | --- |
| | Jul 16, 2008 | | Strong | None Detected | Full | Tolerable |
Unscented Dark Plug. I use a very sharp knife and shave this into almost hair fine shag. Load lightly for best results, and sip slowly. No bite, no soap. A nice nicotine delivery system,especially in a clay churchwarden, and a morning smoke if you want to dance the Masochism Tango.

Great stuff, but not for newbies.
15
people
found this review helpful.
| Reviewed By | Date | Rating | Strength | Flavoring | Taste | Room Note |
| --- | --- | --- | --- | --- | --- | --- |
| | May 03, 2014 | | Medium to Strong | Mild to Medium | Full | Very Pleasant |
A dark brown plug that easily splits into constituent layers. It has ideal moisture content and does not require drying. I sliced and rubbed out and then rubbed out again and packed somewhat firmer than usual.

The pouch note has a distinct lakeland note.

Takes a few lights to get underway but requires little attention from then on.

The lakeland essence only barely survives burning. It drifts in and out over the course of the smoke. As others have noted it has a cigar like aroma, but it is not exactly so. This is its own fragrance; smoky and rich and beautifully weighted. There is some pepper on the tongue and some pleasant acidity too. Burns very cool and without bite.

I am enjoying a bowl in late Autumn, on a wet windy night, in the kitchen, after a lovely meal of roast lamb. This quiet, kitchen hearth setting feels just perfect for this equally down to earth tobacco.
13
people
found this review helpful.
| Reviewed By | Date | Rating | Strength | Flavoring | Taste | Room Note |
| --- | --- | --- | --- | --- | --- | --- |
| | Oct 24, 2009 | | Strong | None Detected | Very Full | Tolerable |
This is not one of my every day smokes since I normally prefer English blends, but it's an excellent alternative to a cigar.

Some good strength, plenty of smoke, tastes very similar to a really good cigar but with more nuance and complexity. It's rich, absolutely refuses to bite and behaves very well in the pipe (my stash is quite dry, which helps). I can't smoke this while busy doing other things because I have to pay attention to it, nursing it to get the maximum flavor, and being sure I don't get any in my nose, which stings a little. Besides, to me it's one of those smokes for contemplative afternoon on the porch.

If you're a cigar fan I think I can confidently say you'll love DP. I have lots of cigars in the house but with this around I don't light them up very often.
12
people
found this review helpful.
| Reviewed By | Date | Rating | Strength | Flavoring | Taste | Room Note |
| --- | --- | --- | --- | --- | --- | --- |
| | May 24, 2014 | | Extremely Strong | Mild to Medium | Full | Pleasant |
I was recommended this one a while back on a forum after deciding to try and give plugs a go, Why it took me so long I don't know, but recently I decided to finally take the plunge and got 50g of the aromatic stuff.

The aroma in the packet is one of turkish delight, a strong one too and just as delicious. The bar itself is unlike the small blocks I'm used to getting but the gorgeous array of dark layers are nonetheless appealing. It is quite crumbly, less so that Revor Plug but more than other plugs I've come across. This make for easy rubbing out and packing, though slicing off flakes isn't really practical, so if this is your thing keep this under advisement. It's a little on the damp side so some drying is in order to avoid those relights. The flavour starts off in much the same vein as the aroma and gives a few hints of lemon too. This fades during the smoke, giving way to something more cigar like, still absolutely stunning if a little on the dark side. Hints of toffee also ensue on occasion, giving little sweet undercurrents to it. On the nic front, this is a super strong one, probably the strongest tobacco I've had the luck to try, so those of a more delicate disposition on this front might want to avoid this or smoke it in small doses.

This is easily not only the nicest plug I have tried, and that's amongst some stiff competition from the likes of 3P's and JackKnife, it probably one of the nicest tobaccos I've had full stop. Probably what wins it over for me is the cigar flavour. I've missed cigars since I took up the pipe, though their expense has long since prevented me from indulging them to any meaningful extent anyway. Now I don't have to worry on this score as I plan to keep this stuff on hand for whenever I need a good puff on a long chunky one. A cracking substitute for good cigars when they're not available and easily earns full stars and continuing place in my cellar.


Pipe Used:
MM Country Gent
PurchasedFrom:
mysmokingshop.co.uk
11
people
found this review helpful.
| Reviewed By | Date | Rating | Strength | Flavoring | Taste | Room Note |
| --- | --- | --- | --- | --- | --- | --- |
| | Aug 27, 2021 | | Extremely Strong | None Detected | Extra Full | Very Strong |
Dark plug is that dangerous looking guy that lurks in a corner of your local pub. He casually swigs rot gut Scotch and rarely makes eye contact. When he does, his eyes look upon you derisively, with a telling look that says you are not worthy. One night you work up the courage to swagger over. He's not one for small talk. He nods in the direction of the back door. You silently follow him out to the alley. You square off, he spits, then proceeds to sock you in the mouth. You take a few swings and miss. Dark plug proceeds to work you over with a few body blows, then smacks you in the face. As you try to collect yourself, he smartly kicks you in the balls. As you roll around in the gutter, he draws a stiletto, makes a menacing gesture, smiles and shows a mouth full of missing and gold teeth, turns on his heel and saunters off. You pass out and dream of pirates and marauders, mercenaries and mayhem. After a while, you come to, collect yourself and stumble back into the bar. You take your place and the bartender sizes you up. He pours you a shot of whiskey with a beer back. "He's not that tough" you mumble as you take your medicine. The bartender raises his eyebrows, grins and pours you another. You gaze across the bar into a mirror and notice a black eye, missing teeth and a fat lip. Then you smile, knowing you had your ass kicked by a worthy adversary. Dark plug has done his job. You will be back for more. Just not anytime soon. Highly recommended weed for when the wifey is out of town and you feel like some self flagellation. This is as close to time travel as you will ever get. You have been warned.
Pipe Used:
Large billiards
9
people
found this review helpful.
| Reviewed By | Date | Rating | Strength | Flavoring | Taste | Room Note |
| --- | --- | --- | --- | --- | --- | --- |
| | Mar 10, 2019 | | Strong | Extremely Mild | Full | Pleasant to Tolerable |
The plug is a dark brown and densely pressed. The pouch note is earthy, heavy and sweet. I sliced it into thin flakes with a sharp knife and then rubbed them out. Some of the hunks resisted the rubbing out process, and I helped them along to produce a mostly medium ribbon. It may have been a little moist to smoke, but I packed it loosely, and it seemed to take a match well enough.

Probably the best description of this tobacco is hearty. The flavor is full, and it is a heavy sweet. There is some spice on the snork, and a subtle bitterness on the palate. The flavor has some earth and just a hint of floral. The strength is a solid strong. It is hearty in every regard, and the flavors are very good. it was easy to keep lit, and it was a slow smoke.

If you are looking for a hearty smoke that is (almost) all tobacco, this is it. I am unlikely to ever keep this in stock, but I can see buying some as a treat now and then. It is very good.
7
people
found this review helpful.