Hearth & Home
Frenchy's Sunza Bitches
(2.44)
For those who prefer a little Virginia with their perique, your ship has come in. The addition of the burley and bourbon toppings does set it apart a bit, it's still a VaPer to the core with nothing spared when it comes to the perique. This is an excellent blend that smokes clean and cool with not a hint of bite.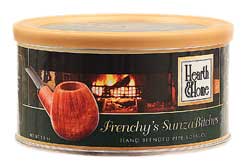 Where to Buy
TobaccoPipes.com
SmokingPipes.com
Details
| | |
| --- | --- |
| Brand | Hearth & Home |
| Series | Signature Series |
| Blended By | Russ Ouellette |
| Manufactured By | Sutliff Tobacco Company |
| Blend Type | Virginia/Perique |
| Contents | Burley, Perique, Virginia |
| Flavoring | Bourbon |
| Cut | Ribbon |
| Packaging | bulk |
| Country | United States |
| Production | Currently available |
Profile
Strength
Medium to Strong
Extremely Mild -> Overwhelming
Flavoring
Very Mild
None Detected -> Extra Strong
Room Note
Pleasant to Tolerable
Unnoticeable -> Overwhelming
Taste
Medium
Extremely Mild (Flat) -> Overwhelming
Please
login
to post a review.
Displaying 1 - 10 of 45 Reviews
| Reviewed By | Date | Rating | Strength | Flavoring | Taste | Room Note |
| --- | --- | --- | --- | --- | --- | --- |
| | May 08, 2013 | | Medium | Very Mild | Medium to Full | Pleasant to Tolerable |
The earthy, woody perique is of decent measure, but outside of the raisin, fig and spice, I didn't find it dominated the flavor quite as much as advertised. The grassy, light tart and tangy citrusy Virginia does what it's supposed to, but I think the toasty, earthy, nutty, woody burley is more the star here. The bourbon is light, but discernible to one who knows that taste, and does not sublimate the tobaccos much at all. The strength is medium. The taste is a couple of steps past that mark. The nic-hit is a shade closer to medium than it is to mild. Won't bite, but has a lot of roughness. Slightly cigarettish if you puff quickly; burns clean and a little warm, and a little fast with a very consistent flavor. It has a sweet and sour taste reminiscent of H&H Sweet and Savory, as others have pointed out. This is less buttery, and has a harsher taste. Leaves little moisture in the bowl, and requires few relights. The sour, bitter after taste lingers as does the room note. Not an all day smoke.

-JimInks
13
people
found this review helpful.
| Reviewed By | Date | Rating | Strength | Flavoring | Taste | Room Note |
| --- | --- | --- | --- | --- | --- | --- |
| | Aug 18, 2020 | | Medium | Very Mild | Medium | Tolerable |
Hearth & Home - Frenchy's Sunza Bitches (Signature Series).

'Smokes cool with not a hint of bite'? Lie!

I have to say, the blend contains some of the longest ribbons I've encountered! Because of the array of sizes I'd, personally, quantify this as a mixture. There's a very slight hint of bourbon to the aroma but it doesn't have any potency to it. Moisture? Perfect; as the pouch was tightly rolled up it's held a little in which suits me!

The smoke? To be fair the flavour isn't bad, but the opprobrious mechanics wreck it. OK, the Perique is more than definite, pairing well with the lemon-sweet Virginias. Any Burley rides in the passenger seat, it's there but the nuttiness lacks enough vibrancy to make the flavour too steadfast. Then we have the bourbon: it lacks anything other than that caustic, astringent, alcoholic taste. There isn't any actual whiskey there, just vituperative alcohol. The lowest points, burn and bite: WAY too hot, bites HORRIBLY.

Nicotine: medium. Room-note: unpleasant.

Frenchy's Sunza Bitches? The cool name won't save this. Absolutely, decidedly, terrible. Not recommended:

One star.
PurchasedFrom:
Tobaccopipes.com
9
people
found this review helpful.
| Reviewed By | Date | Rating | Strength | Flavoring | Taste | Room Note |
| --- | --- | --- | --- | --- | --- | --- |
| | Mar 31, 2016 | | Medium | Very Mild | Medium | Pleasant to Tolerable |
This should be renamed Frenchy's Sunza Bite-ches. It is a real flamethrower that no amount of slow sipping can tame.

Best when freshly opened, it's something like a bourbon and vanilla flavored OTC blended with a fair amount of spicy perique and some VA, giving it a sweet and sour vibe. Bourbon/vanilla/perique/burley, pretty interesting. Dry-ish from the start, but not completely dry. Very cool chop cut I must admit, packs well. Best part of the smoke is the last third, where the elements finally meld, the burley gets a little nutty tasting, and there is a hint of buttery-ness.

Went completely flat in under a week, even when I dug into the bottom of the tin where the tobacco was less dry. Also there are more than a tolerable amount of chopped-up stems hiding in there, including some real monsters.

I bought the 8 oz. tin of this sonofabitching stuff and really wish I hadn't. Can't recommend it. Will try re-hydrating it (with bourbon of course) but seeing as it bit like a beast from the get-go my expectations are low. If by some miracle it turns out better will update with the result.

--UPDATE--

Rehydration brought back the flavor, especially the perique spice, but did nothing to mitigate the bite, unfortunately.
7
people
found this review helpful.
| Reviewed By | Date | Rating | Strength | Flavoring | Taste | Room Note |
| --- | --- | --- | --- | --- | --- | --- |
| | Mar 04, 2017 | | Medium | Mild | Medium to Full | Pleasant |
A VaPer with a twist. This one has more than average strength and the Virginia is of the Bright, citrus/hay like presentation and the Perique, although not the lead singer, gets plenty of billing with each puff. The whiskey top coat is also noted frequently throughout the smoke and adds that "twist" to the blend that makes this one stand out. You'll certainly know you had a smoke after partaking.
6
people
found this review helpful.
| Reviewed By | Date | Rating | Strength | Flavoring | Taste | Room Note |
| --- | --- | --- | --- | --- | --- | --- |
| | Jul 27, 2014 | | Medium | None Detected | Medium | Tolerable |
This is a fine burly based VaPer. In my opinion not for the novice smoker. Has a great jar note. Be patient in smoking this offering and it will reward you with a rich tobacco taste with a hint of pepper and spice. If you smoke Frenchy's too quickly it will reward you with tongue bite. I will reiterate NOT FOR THE NOVICE SMOKER!
Pipe Used:
Briars dedicated to this tobacco style.
PurchasedFrom:
pipesandncigars.com
5
people
found this review helpful.
| Reviewed By | Date | Rating | Strength | Flavoring | Taste | Room Note |
| --- | --- | --- | --- | --- | --- | --- |
| | Feb 11, 2016 | | Medium to Strong | Very Mild | Medium | Tolerable |
I really enjoyed this one for the way it tastes and performs. The fact that is has a great name is just the cherry on the top. I bought 4 ounces of this one about 3 and a half years ago and have mainly used it as a change up smoke as I just don't see this as an all day every day type of smoke.

It has a nice flavor that seems to come from a great balancing act of all the ingredients. The bourbon is the game changer in this one. It takes it from tasting just like another va bur per and gives it an odd sweetness that is enjoyable to my palate. This is important for me as I really have not liked any blends with bourbon as an ingredient even though it is, by far, my favorite spirit to drink.

The perique is pretty strong, but not overwhelming. I tend to favor this genre to be a little heavy in perique. If I had to make any compaints on this there would be two. One, this blend burns fast. If you want a nice long smoke, you better have a very large bowl. Two, The cut. This may have something to do with the speed at which it burns. The ribbon cut on this one is very broad making for a pack job, that appears as if it will not burn evenly.

I never had a problem with it burning unevenly, but I do think the cut made for bowls that lacked much tobacco, thus increasing the speed at which the bowl was spent. In any case, taste is the most important thing. I am giving this one four stars as I truly loved each bowl I had.
4
people
found this review helpful.
| Reviewed By | Date | Rating | Strength | Flavoring | Taste | Room Note |
| --- | --- | --- | --- | --- | --- | --- |
| | Jun 05, 2014 | | Mild | Extremely Mild | Mild | Very Pleasant |
For first time i'm evaluate a blend with one star... this blend unfortunately is only beautiful in your cut... ...the tin is made with paper, this is sucks all the humidity of the tobacco, and the tin was rusty... I dont like this tobacco and I will not buy again...
4
people
found this review helpful.
| Reviewed By | Date | Rating | Strength | Flavoring | Taste | Room Note |
| --- | --- | --- | --- | --- | --- | --- |
| | Jul 30, 2021 | | Medium | Very Mild | Medium | Pleasant to Tolerable |
No doubt that this blend is the descendant of a bitch - it bites like it's been kenneled for months, with an abusive master and little more than scraps to eat. No kidding here. I've been sitting on an ounce of this for over four months now, and can't even get a whole bowl finished. I just dumped my last attempt right after the char light - it will be the very last. I tried.

The cut is nice, though. And if you have an iron tongue, you might be able to appreciate the sweet interplay between the Perique and Virginia after more than two puffs. The musky taste of the Perique is pretty good at first, but not worth it at last.
| Reviewed By | Date | Rating | Strength | Flavoring | Taste | Room Note |
| --- | --- | --- | --- | --- | --- | --- |
| | Jan 23, 2015 | | Strong | Mild | Medium to Full | Pleasant to Tolerable |
The chameleon blend... stayed with friends for several days and we tried this blend, bought in an 8-oz. tin and jarred for 2 years--and not brand new when jarred. Dry. Not crunchy but way too dry. It smoked too hot and my sole impression was of heat! Had to keep putting the hot pipe down, not something that happens to me much. Could smell the bourbon, but barely, and none of it in the smoke. Don't ask me about that first bowl's taste, because all I can remember is the f'n heat. Dry burley just slaughters me. Then we re-hydrated some of it overnight in a cereal bowl with wet muslin pulled tight over the bowl. We mixed the baccy a couple of times that evening and again, early.

Wow, the difference is incredible. I was in on the re-hydration impulse so couldn't avoid trying it on Saturday but I was dubious. Actually I was scared sh*tless. It was fabulous. The bourbon was there and very refined this time, in its Sunday best, not loutish or overpowering. Could have been a little stronger, for that matter. This time I got the Perique, which was very forward yet well-behaved. Instead of VaPer, this may should be called a PerVa when smoked at the proper humidity level, but I mean that in the nicest possible way. The Burley was a nice addition the second time around (a burning viper the first bowl). Those reviewers who didn't like this either smoked it too dry to get the real taste balance or just don't like that much Perique. I smoked 8 or 10 bowls SAT & SUN. And loved every one.

Speaking of moisture, a couple of points: many of the bad reviews of this blend obviously (to me) needed a Re-evaluation with Re-hydration (RWR, a new abbreviation). This FSB is some rough sh*t when too dry. I also agree with the reviewer who said that moisture makes a difference in the aging. 'Tis true, tobacco does not age properly when too dry. Some things like Semois are supposed to be bone dry, but not a Vaper and certainly not a Vaper with some potentially bitey Burley coiled up inside. I'm surprised that RWR (see how handy this is?) made this much difference on a 2-Jahre jar and can only surmise that it did a lot of aging anyway, even though so dry. But the inherent aging effect was dormant dry and awoke with a song once RWR'd. Hmmm. Re-juvenation with Re-hydration also works for RWR. Am I on to something here?

OK. So I've not tried this fresh, and may never. I ordered a couple of 8-oz. tins (if tin cardboard shall be called) at a really good price ($19/tin, did I pay too much?) from SP.com. I will hydrate it if necessary and jar it in 2-oz. jars for at least a year, then try. Some will go 18-mo. and some 2 years. Oh, WTH, I'll try a bowl straight out of the tin.

I thought FSB less complex than others, like Haddo'sD, but I love the spice of FSB. I'm a Louisiana boy who's been smoking pipes and cigars a long time and actually used to smoke unfiltered Picayunes (there was no other kind) back in the 60's--but not every day, or even every month. I takes a lot of N-power to put me down and FSB did not do it, but it might be a little tough for new pipers without some real prior smoking experience.

Note to future reviewers: hope you read this review before writing yours. FSB, properly moist, is a marvelous blend for VAPER lovers. Please rehydrate if necessary before writing the review. Too dry, and this tobacco has no non-military uses.
Pipe Used:
cob, leather wrapped & meer-lined billiard
PurchasedFrom:
Friend's weed
Age When Smoked:
2 years+
| Reviewed By | Date | Rating | Strength | Flavoring | Taste | Room Note |
| --- | --- | --- | --- | --- | --- | --- |
| | Nov 27, 2013 | | Strong | Very Mild | Full | Tolerable |
I am just now trying this for the first time, just got the tin the other day. I opened the tin and was surprised to find it stuffed to the top with a seemingly dry tobacco blend that smelled of whiskey and perique. I packed my bowl and fired it up and whoa! this stuff is strong and a little harsh from the dryness. Maybe re-hydrating it a little would calm it down some but it does have a pretty serious Nic hit to it, it also burns really fast. I may have to cellar this one for a while. As of right now it doesn't have much flavor other than lots of perique, maybe too much. It just doesn't do much for me personally.
Pipe Used:
straight bulldog
Age When Smoked:
new, just opened