Peterson
Connoisseur's Choice
(3.06)
A satisfying, spicy and aromatic blend of black cavendish, golden and red Virginias, mixed with luxury broken flake. The aromatic recipe of tropical fruit, maple, vanilla & rum make this blend smooth and very pleasant.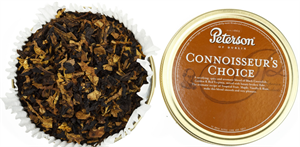 Where to Buy
SmokingPipes.com
TobaccoPipes.com
Details
| | |
| --- | --- |
| Brand | Peterson |
| Blended By | Peterson |
| Manufactured By | Scandinavian Tobacco Group |
| Blend Type | Aromatic |
| Contents | Black Cavendish, Virginia |
| Flavoring | Fruit / Citrus, Maple, Rum, Vanilla |
| Cut | Ribbon |
| Packaging | 50 grams tin |
| Country | Denmark |
| Production | Currently available |
Profile
Strength
Mild
Extremely Mild -> Overwhelming
Flavoring
Medium
None Detected -> Extra Strong
Room Note
Very Pleasant
Unnoticeable -> Overwhelming
Taste
Mild to Medium
Extremely Mild (Flat) -> Overwhelming
Please
login
to post a review.
Displaying 1 - 10 of 173 Reviews
| Reviewed By | Date | Rating | Strength | Flavoring | Taste | Room Note |
| --- | --- | --- | --- | --- | --- | --- |
| | Nov 13, 2009 | | Mild to Medium | Strong | Mild to Medium | Pleasant |
Yea, I love the aromatics, so sue me. This is fruity, fruity, fruity. Did I mention that it's fruity?

For those of you that feel pressured to try the English blends "Coz you're not a real pipe smoker unless you do!" (Yawn!) I say this. Just smoke what you like mate..

If you like the aro's to hell with those that try to convince you that unless you smoke something that smells/tastes like leather or burning wood/rubber, then you're somehow inferior. Utter bollocks.

Good quality, dark fruit cakey, rummy, etc..etc..

A rich dessert smoke.
82
people
found this review helpful.
| Reviewed By | Date | Rating | Strength | Flavoring | Taste | Room Note |
| --- | --- | --- | --- | --- | --- | --- |
| | Dec 27, 2013 | | Mild to Medium | Medium | Medium | Pleasant |
Smells great in the tin - and translates fairly well to the taste in the pipe. The vanilla and rum dance in and out during the smoke. A sweet, nutty, burley-like flavor comes out as I smoke through the bowl. The vanilla and rum hang on throughout - very pleasant. No problems lighting, packing, or smoking - no excessive heat. As with all Aros, and most everything, I pack the pipe by first doing a gravity feed, tapping the sides of the bowl until I fill it to the top. Then I take a moderately large pinch with three fingers and twist-pack it into the bowl, followed by uniformly crimping to the interior sides. Seems to work better than the old three step, particularly with Aros. A solid 4 star performer that consistently delivers within and across pipes.
Pipe Used:
Karl Erik, Peterson
PurchasedFrom:
Corona Smoke Shop, Jackson, MI
Age When Smoked:
B&M shelf placement date of SEP 2010 noted on tin
28
people
found this review helpful.
| Reviewed By | Date | Rating | Strength | Flavoring | Taste | Room Note |
| --- | --- | --- | --- | --- | --- | --- |
| | Dec 08, 2013 | | Mild | Medium | Mild | Very Pleasant |
I'd recommend this to new smokers looking for the more aromatic smoking experience. I say this because it is the closest I have come to finding an aromatic that smokes like it smells out of the tin - if that makes sense - taste and room note I suppose. I took to pipes from smelling others smoke and finding it pleasant and this blend takes me to that.

The vanilla comes through really well and I find even on the exhale it is pleasant to breath back in. I didn't get a soapy after taste like some of the aromatics I have tried.

I also preferred this to some of the other heavily alcohol laced aromatics I have tried. Whilst some have said this smokes hot I have tried some whisky blends that seem to fry me - I didn't get that with this, the alcohol wasn't over powering but if you don't have a taste for vanilla then pass on by.

I'd also say it has more strength to it than the Deluxe mixture - I now find that with Deluxe it is all smell, no taste or strength. This is a step up.
Pipe Used:
Rattaray - Old Gowrie
21
people
found this review helpful.
| Reviewed By | Date | Rating | Strength | Flavoring | Taste | Room Note |
| --- | --- | --- | --- | --- | --- | --- |
| | Feb 01, 2014 | | Mild | Mild to Medium | Mild to Medium | Pleasant |
Connoisseur's Choice appears to have the quality underlying tobaccos that Peterson is known for and the tin note is enticing, mainly smelling of fruit. My memory may be off, but I recall some of the same flavors in the old Sunday Fantasy. I find CC to be kind of a typical fruit flavored aromatic albeit a higher quality one. The tin scent carries over fairly well to the smoke. For me to get the most out of this blend, I find that by drying it toughly, the tobacco flavor emerges, offering a better balance between tobacco and flavoring. It can burn a little hot if pushed. If I could review this based on just the first half of each bowl, I would recommend it, but as the bowl progresses, it loses points with me because there is a slight chemical taste that seems to waft in and out. It is just slight, but it is enough to keep me from reaching for it verses other aromatics when smoking the occasional aromatic blend. CC is decent stuff, but not a bell ringer for me.
20
people
found this review helpful.
| Reviewed By | Date | Rating | Strength | Flavoring | Taste | Room Note |
| --- | --- | --- | --- | --- | --- | --- |
| | Jan 22, 2014 | | Mild to Medium | Medium | Mild to Medium | Pleasant |
Peterson - Connoisseurs Choice.

A lovely, easy going, aromatic. Although the fruity side of the topping could be considered a little acidic/harsh, it's counterbalanced by the vanilla/coffee. These contribute to forming a smoother flavour. The bowls I've smoked have all burned well, giving a cool smoke. Even though the topping is fairly heavy, it still allows the tobaccos to have their say.

Nicotine: mild to medium. Room-note: pleasant.

Just misses out on four stars:

Recommended.
Pipe Used:
Commoys Elegance
15
people
found this review helpful.
| Reviewed By | Date | Rating | Strength | Flavoring | Taste | Room Note |
| --- | --- | --- | --- | --- | --- | --- |
| | Dec 20, 2012 | | Mild | Medium | Mild to Medium | Very Pleasant |
Wow, a lovely tobacco from Petersons!

As I do with most aromatics, I dried it for a few minutes before lighting which often leaves me with a fairly dry bowl and this was no exception...

On first light my wife commented on the fantastic sweet caramel & vanilla room note, I too got a strong taste of the caramel & vanilla on the charring light, but that soon smoothed out to a wonderful bowl. No tongue bite, a nice amount of nicotine and a very consistent smoke throughout.

It's understandable why they call it Connoisseurs Choice, It's a fairly subtle flavour with wonderful Virginia's, it's not a mouth-watering aromatic, but good none the less!
14
people
found this review helpful.
| Reviewed By | Date | Rating | Strength | Flavoring | Taste | Room Note |
| --- | --- | --- | --- | --- | --- | --- |
| | Jul 07, 2014 | | Mild | Medium | Mild to Medium | Very Pleasant |
Is quite long I'm not smoking aromatics after had some bad experiences with them. Is about last 3 - 4 months that I'm not smoking aromatic and just enjoying virginia, vaper, english and others non-aromatic tobacco. If I'm make order of tobaccos, definitely sure I will not order aromatic tobaccos, just put them away from my mind. Until my friend last month send me 3 tin of aromatic tobaccos and this Peterson Connoisseur Choice is one of them that had been sent to me from my friend. Not really passionated to open it so I just put them on my desk and I'm continuing my journey with non-aromatic blends until yesterday I decided to try to smoke aromatic blends again and this Peterson CC is my first try.

The tin note is just like other aromatics, wonderful, a really mouth watering scent that very tempting to smoke them in hurry. But I'm still thinking this wonderful scent/tin note just a seduction, some aromatics tobacco had different taste and flavor after it burnt on pipe and the best is just until 1/3 bowl it can tasted as same as the tin notes. I can smell wonderfull scents of vanilla, caramel, rum, a little bit banana and a little bit pineaple, so sweet and it remainds me to my favorite bubble gum that I usually chewed at my teenager age.

With ribbon cut, which is my favorite cut also with coarse cut, this stuff is easy to pack. It become in to my habbit if I'm smoking aromatics, before I pack them in to my pipe I put them into a paper and let them in open air for 10-15 minutes. This Peterson Connoisseur Choice is came to me with a nice moisture level, almost similar with the MacBarren's moisture level but I'm still worried if this stuff will soak my pipe very badly, so give an air time is still the best preventive action to enjoy well this stuff for me.

After 15 minutes air time, I made 3 layers packing in to my tamarind patrikson putu cowe pipe, which is a full bent billiard pipes, my favorite Indonesian local pipe. Make a nice charring light, tamp it with gentle and puff it with slowly, and the smoke is quite great. The taste and flavor is just like the tin note, the vanilla and caramel flavor is dancing so sweet in to my palate and my nose follows with pineapple and rum scents. It taste so sweet at my mouth and I'm surprised the smokes translate the tin notes so well. It smokes well until the half bowl, and after half bowl the taste is change in to nutty flavor that cames more dominant follows with a thin vanilla and rum, the fruity scents is starts to disappears. And the good news is, it doesn't soak my pipe very bad, still wet, but not soak my pipe very bad.

So this stuff is very good for me, at least I can smoke this stuff freely inside the house without my wife get annoyed. Thanks to my friend that is so generous to share this stuff with me and made me to found an aromatic blend that fit on my taste.
Pipe Used:
Putu Cowe Tamarind Patrikson
12
people
found this review helpful.
| Reviewed By | Date | Rating | Strength | Flavoring | Taste | Room Note |
| --- | --- | --- | --- | --- | --- | --- |
| | Jul 03, 2013 | | Mild | Medium to Strong | Mild to Medium | Very Pleasant |
I can see why this is called Connoisseur's choice. Treat it gently and you will be rewarded. Go gung ho and you will be punished.

In the tin this tobacco smells incredible. Very complex mix of aromas; rum, vanilla, almost a pina colada smell, with sugary prunes. It's presented as a ribbon but I've found quite a few bits of flake in mine too. A good assortment of colours. All in all a very visually and sensually appealing tobacco.

Before you light I would STRONGLY recommend drying it out. If not on a plate for half an hour, in your pipe overnight. It's very moist in the tin and will be a pain to keep lit without drying. Indeed even with drying it needs quite a bit of nurture to keep up the pleasant taste.

It offers a thick white smoke and a lovely white ash once it gets going. Initially those tinned flavours- pineapple, vanilla, alcohol- do come through. Not NEARLY as strongly as in the tin, but so it goes with aromatics... Towards the end of the bowl you taste a bit more of the tobacco. Ever so slightly nutty, still quite sweet; verging on but not quite getting bland. The room note is fantastic, too. It did surprise me that there's no Burley in this one. For a Virginia Cavendish it's quite nutty and sometimes even floral on the retrohale.

Perhaps the best thing about this tobacco is it forms an excellent cake, if you have the patience to smoke it all the way down. Without exception I've always had to leave this one and come back because it does burn on the hot side.

I would HIGHLY recommend this one to beginners. Not only will it get your first pipe prepped nicely, this tobacco offers a lot in the way of learning about the right variables for a nice smoke (humidity, flavouring, building up nicotine resistance slowly, keeping your pipe lit properly, the value of packing properly).

What I would say is that I think this is a tin that could do with ageing a little. Perhaps a few months. Without age, it's bites a little more, gurgles a little more and is harsher than it could be. Also, as I said, it needs to be treated VERY gently. Tamp lightly, pack loosely and light carefully.

In short, if you're looking for a pleasant aro and don't mind putting the work in, you wouldn't do badly to pick up a tin of this. It's certainly my favourite Peterson's blend.
9
people
found this review helpful.
| Reviewed By | Date | Rating | Strength | Flavoring | Taste | Room Note |
| --- | --- | --- | --- | --- | --- | --- |
| | Nov 27, 2013 | | Extremely Mild | Strong | Mild to Medium | Very Pleasant |
A typical Peterson aromatic. Wet with casing. If you are familiar with their tobaccos and can manage smoking them I would recommend you try this. Even if you aren't I recommend you try it. It just needs to be minded as it gets HOT. It smells amazing, I don't think any aromatic smells as good as it. About half way through the bowl it looses the flavour of the casing and you're left with a bland tobacco. Okay tobacco. Nice to smoke if you have noses around to please.
7
people
found this review helpful.
| Reviewed By | Date | Rating | Strength | Flavoring | Taste | Room Note |
| --- | --- | --- | --- | --- | --- | --- |
| | Oct 04, 2009 | | Mild | Medium to Strong | Medium | Pleasant |
Too many flavors. Why mess up quality tobacco with so many flavors? I mean fruit, vanilla, rum, and...maple? Too many notes, my dear Mozart! Well, Mozart never used too many notes-this is more like Reger. I can smoke this kind of aromatic only when I am in a certain mood, and with the proper drink-some sweet cocktail or liqueur, and I don't drink those often.

1-16-10 To Sinister Topiary: (what a great name!) I am impressed by anyone who knows who Max Reger was. His music is...unique, kind of like Brahms on speed or angel dust, but the bespecticled, fat late romantic composer wouldn't have cared whether you liked his music or not. He just kept on churning those hour-long string quartets and such out, sequestered in his shed with no other care in the world. He has to his credit the best reply to a bad review ever: "I am sitting in the smallest room of my house. Your review is before me. Soon it will be behind me." He was a cigar smoker, by the way.

2-16-11 This is a nice aro. Thing is, with well-made aros, I want to puff too hard, and get bitten...really doesn't help smoking this in this clay pipe that I fear was made more as a souvenir than an actual smoking device...I am too harsh. Actually, this German-made Irish-themed thing smokes OK if you don't push it so hard, and the same is true of this tobacco. Long live the extravagant, Reger and over-the-top aromatics and such. You just have to enjoy them in smaller doses sometimes.
7
people
found this review helpful.