Peter Heinrichs
Curly Special
(2.97)
Rare Virginias are spun into "twist" then sliced to the size of small coins. Each disk is a complete blend. Costly to produce, this spun cut can be smoked for its slow burning classic Virginia flavor or mixed into a favorite blend for a change of pace.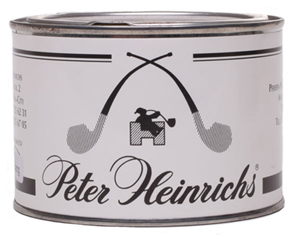 Where to Buy
SmokingPipes.com
TobaccoPipes.com
Details
| | |
| --- | --- |
| Brand | Peter Heinrichs |
| Series | Special Selection |
| Blended By | |
| Manufactured By | |
| Blend Type | Virginia/Perique |
| Contents | Perique, Virginia |
| Flavoring | |
| Cut | Curly Cut |
| Packaging | 100 grams tin, 200 grams tin |
| Country | Germany |
| Production | Currently available |
Profile
Strength
Mild to Medium
Extremely Mild -> Overwhelming
Flavoring
None Detected
None Detected -> Extra Strong
Room Note
Pleasant to Tolerable
Unnoticeable -> Overwhelming
Taste
Mild to Medium
Extremely Mild (Flat) -> Overwhelming
Please
login
to post a review.
Displaying 1 - 10 of 32 Reviews
| Reviewed By | Date | Rating | Strength | Flavoring | Taste | Room Note |
| --- | --- | --- | --- | --- | --- | --- |
| | Oct 20, 2013 | | Mild to Medium | None Detected | Mild to Medium | Pleasant to Tolerable |
The Virginias have a little tart and tangy citrus and some tangy dried dark fruit, but I got more of a hay, grassy, and woodsy flavor from them. Also, a mild earthiness and light acidity are present. The earthy perique lightly gives the typical raisin, plum and fig notes, and a very small amount of spice. It probably deserves two and half stars, but I give it three because of the quality of the tobaccos, and the ease of how it smokes. However, it lacks a bass note to prop up the flavor, and I'm aging a tin of it to see what happens in a few years. The strength and taste levels fall just short of the center of mild to medium. The nic-hit is a hair less potent than the strength threshold. No chance of bite or harshness, and has few small rough edges. Burns at a reasonable pace with a cool, clean, fairly smooth and very consistent, mildly acidic sweet and spicy flavor that translates to pleasantly, short lived after taste. The room note is a tad stronger. Requires few relights, and leaves little moisture in the bowl. An all day smoke.

Edit: 5-14-14. I've been smoking some of this aged, and it has improved quite a bit. Fuller in taste and spice after a couple of years, as I suspected would happen. So, I give it 4 stars for the aged version, and greatly recommend aging it.

-JimInks
16
people
found this review helpful.
| Reviewed By | Date | Rating | Strength | Flavoring | Taste | Room Note |
| --- | --- | --- | --- | --- | --- | --- |
| | Nov 28, 2011 | | Mild to Medium | None Detected | Mild to Medium | Pleasant |
Cute little curly-squiggles in the tin with an aroma of the usual figs, raisins and various spices that is typical of a good VaPer (and not so good ones). Loads easily - really needs no rubbing out. I just tossed the coins in the bowl and fired up.

This appears to be the same thing as the current version of Three Nuns. I did one back-to-back comparison and am not sure I could tell them apart blind. This is a mildly spicy and sweet mixture where the perique is used sparingly but convincingly. It could stand to be a bit more flavorful but that's asking a blend to be something it isn't. This is an enjoyably light smoke with some zest to it. Unfortunately, it loses a star due to a moderate amount of tongue sizzle that it gives me for about the first 1/3 bowl. Of course, that's usually due to a chemical balance thing, so perhaps I myself lose the star rather than the blend. As my experience appears outside the norm, I can heartily recommend this to the smoker of mild VaPers. It's a good one that I'll likely never smoke again due to that sizzle. It occurred in each and every bowl I smoked. I smoked about 2 oz and gave the other 1.5 away.

Worth a try.
10
people
found this review helpful.
| Reviewed By | Date | Rating | Strength | Flavoring | Taste | Room Note |
| --- | --- | --- | --- | --- | --- | --- |
| | Aug 06, 2011 | | Medium | None Detected | Medium to Full | Very Pleasant |
Heinrich's blends are not well known as importation has been sporadic over the years. All of the offerings are quite good and worthy of consideration.

These little curlies are superior in flavor if you like medium to strong Virginia/Perique as opposed to the sledgehammer hits some blends of this type produce.

Easy to stuff into your pipe, light and burn, Heinrich's curlies will remind you of Escudo (although Escudo is much lighter in both nicotine and flavor).
6
people
found this review helpful.
| Reviewed By | Date | Rating | Strength | Flavoring | Taste | Room Note |
| --- | --- | --- | --- | --- | --- | --- |
| | Dec 22, 2005 | | Extremely Mild | Mild | Very Mild | Pleasant to Tolerable |
Peter Heinrichs' Special Curly was something of a disappointment. Indeed, there's something of the original Three Nuns in this blend: the lovely small discs spun with some lose red ribbon and black strands. But the aroma in the tin, the flavor, and the strength has nothing to do with the nuns. If anything, SC is closer to Stokkebye's Luxury Curly Cut or Mac Baren's Dark Twist, than to those legendary Va/P blends such as Three Nuns, Escudo or Navy Rolls. Although there is no mention of Perique in this blend, there is certain piquancy in the background that suggests its presence. There's also some Cavendish (I imagine it's the lose black strands) that contributes to the sweet, pastry notes.

For all the luxury of this blend, and its very attractive presentation, the fact remains that it's far too mild and bland to truly enjoy it (at least for me). The dominating flavor is, in fact, the slightly sweet, chocolaty undertone of the Cavendish, rather than the mature and nutty taste of the Virginias. This blend produces a ticklish feeling in the tongue, probably due to the Perique, but it also bites and burns hot. Monochromatic and dull, it fails to deliver at least some punch. To sum things up: a very visually attractive presentation with no flavor to match.

If looking for something similar, but with a bit more of punch and structure, try Wessex's Brigade Sovereign Curly Cut. It's equally well done, and you do get the feeling of smoking something.
6
people
found this review helpful.
| Reviewed By | Date | Rating | Strength | Flavoring | Taste | Room Note |
| --- | --- | --- | --- | --- | --- | --- |
| | Sep 15, 2015 | | Mild to Medium | None Detected | Mild to Medium | Pleasant to Tolerable |
This was my first taste of this one from a sample I received from a friend. I gotta say, it skyrocketed to one of my favorites very quickly. Took some lighting effort, which I found strange given that it was somewhat aged, but it took off once I got it right. Found this to be a complex mix of flavors that I tremendously enjoyed. Constantly changing in taste with sweetness, smokiness, pepperiness, and a HINT of sugar at random times just when it needed it. Always lingering through the bowl was an almost licorice backtaste that I generally don't like- but it worked well in this blend. I find it interesting the negatives on other reviews because it doesn't match up with or exceed another blend (in this case Three Nuns) and that reviews don't just take this blend for this blend. I guess I have the luxury of a tin of Three Nuns still uncracked in my cellar. This one experience will send me to the E-world to get a can.
Pipe Used:
Savinelli Deluxe
Age When Smoked:
Unknown- but some age
4
people
found this review helpful.
| Reviewed By | Date | Rating | Strength | Flavoring | Taste | Room Note |
| --- | --- | --- | --- | --- | --- | --- |
| | Aug 15, 2011 | | Medium | Mild | Medium to Full | Pleasant to Tolerable |
This is an excellent blend and the cut makes for easy loading. I stuffed around 6 little coins into a small bore bent Neerup. Their diameter allowed them to be stacked without any stuffing. Their soft, curly edges made for an easy light. In fact, the edges seemed to light up first, which is contrary to most other blends, and then burnt towards the middle. It made for a very even burn top to bottom.

The smell in the tin is fairly sweet, but not like an aromatic; more Virginia sweet. The flavor came on at first light and remained until its completely burned to ash. I'm not a big fan of the super peppery VaPers, but Curly is not that. It has a medium strength flavor that is smooth and fairly sweet in a natural way. There is a hint of spice that adds a nice dimension to the flavor.

My wife is fairly picky about room notes and said this one reminded her of breakfast cooking. She like it.
4
people
found this review helpful.
| Reviewed By | Date | Rating | Strength | Flavoring | Taste | Room Note |
| --- | --- | --- | --- | --- | --- | --- |
| | Nov 30, 2014 | | Mild to Medium | None Detected | Mild to Medium | Pleasant to Tolerable |
P. Heinrich's Curly is what I would categorize as a good middle of the road, mild to medium VaPer. Price aside, there isn't all that much here to differentiate Heinrich Curly from other blends in its class. The coin presentation is very well done and the VA flavors are quite reminiscent of Mac Baren's twist mixtures. In fact, if someone were to ask me to name the blender of this tobacco in a blind tasting I would almost surely say "That's a Mac Baren blend," as it has that characteristic Danish style light-sweet grassiness over mild even keel semi-earthy tobacco flavor.

Curly makes for well balanced pipe smoke and the perique presence is subtle at best, lending a sliver of spice that's on par with blends like Orlik Golden Sliced. Frankly this would make a good level entry VaPer or one that might be appreciated by pipers that don't care for much more than a trace of Perique, but I can't see too many perique aficionados falling in love with this.

Heinrich claims Curly is costly to make and the price definitely reflects that. The biggest problem here is that there are a plethora of excellent VaPers on the market, some for almost half the cost. This is high quality tobacco that smokes smooth with no bite or harshness and a subtle lingering sweetness.
3
people
found this review helpful.
| Reviewed By | Date | Rating | Strength | Flavoring | Taste | Room Note |
| --- | --- | --- | --- | --- | --- | --- |
| | Oct 09, 2015 | | Mild | None Detected | Mild to Medium | Pleasant to Tolerable |
The references to Three Nuns of long ago are not justified in my opinion. This is a mild blend, whereas Three Nuns strength was medium to full. The taste is mild to medium, where Three Nuns was medium to full. The nicotine is light, whereas Three Nuns could make your head spin. But the differences are what make Curly Special so appealing to me. Curly special is tasty, with the perique used so sparingly that you hardly taste it. But you know it's there. This blend burns cool and dry to the bottom of the bowl. I rub out the disks and pull the ribbons apart till I have a shag cut, which eliminates blasts of perique and produces a smoother smoke. A good choice for those who like their pleasure on the mild side and I'm one of them. Update: My only caveat is to make sure your pipe is very clean. A wonderful blend. One of my favorites.
PurchasedFrom:
Pipes and Cigars
| Reviewed By | Date | Rating | Strength | Flavoring | Taste | Room Note |
| --- | --- | --- | --- | --- | --- | --- |
| | Jul 09, 2006 | | Mild to Medium | Very Mild | Medium to Full | Pleasant to Tolerable |
I love this tobacco, and feel compelled, despite its higher than average price, to praise it just to encourage others into buying a tin or two before it disappears completely from the stock rooms of e-tailers, leaving its fans no choice but to order it direct from Germany.

Though this is one of the cleanest Virginias on the market, I believe it to be topped?subtly, but topped, nonetheless?with vanilla and what I can only describe as unfermented kirshwasser. None of these flavors finds their way to the smoke, however, which starts off with a delightful tanginess. I think some have attributed this tanginess to a measure of perique. I take it to be the byproduct of the natural fermentation in the blend's Virginia tobaccos?more like McClelland Virginias, or, well, immature perique. But the tanginess here stays at the tip of the tongue, it never fully coats or saturates it. And herein lies one of the great qualities of this blend: a consistent tang that keeps it tasting fresh, and refreshing, from first light to last dottle.

The tanginess also disguises some of the natural sweetness that the Virginias lend it. Progressing through the bowl, the smoker is aware of both tastes without either one overwhelming the palate or, more importantly, tiring it. This is a dawn to dusk, morn to midnight kind of a blend. In the latter half of the bowl, two qualities assert themselves rather forcefully: the reediness of a good Va smoke, and a kind of toasty quality to the tobacco that provides for a very pleasant 'smoke'.

In the final analysis this is why I find Special Curly an absolutely superior tobacco. It provides for a fine smoke, which is, after all, the activity most closely associated with the briar. With this blend, the reediness, sweetness, and tanginess are not played exclusively on the tongue but in the whole mouth as big blue clouds of smoke swirl around it, leaving hints of pleasure here and there.

This tobacco requires some familiarization. It has a tendency to bite if puffed aggressively. But I urge every Virginia lover to try it. The time and money invested in a 200 gm tin can bring tremendous, and surprising, returns.
| Reviewed By | Date | Rating | Strength | Flavoring | Taste | Room Note |
| --- | --- | --- | --- | --- | --- | --- |
| | Feb 21, 2006 | | Mild | None Detected | Mild to Medium | Pleasant |
I have been working through this massive tin and it has been great. at $35 a tin this is a major commitment, but well worth it. People compare it to Three Nuns, and I catch passing echoes of Nuns here and there in the smoking, but this is no clone of that venerable tobacco, do not buy it expecting such (even though I did). It is nether as deep nor as dark as Three Nuns, more sunny and with a nuttier flavor and a somewhat honeyed/fresh mown hay sweetness. While there reads no perique in the description, there is a stewed figiness at times that make you question whether it's there or not. The overall character is of a bright, fresh tobacco-y smoke. Very pleasant and relaxing.