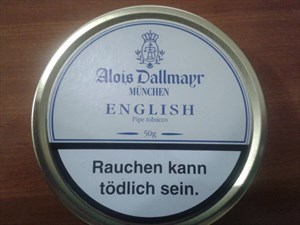 Brass coloured tin with white background sticker and blue print lettering.
Notes: I haven't smoked for six months, so my first bowl was cigarettish but not entirely unpleasant. I've smoked this several times now and in different pipes and I've come to fully enjoy the flavours and characteristic of this tobacco. It has a predominantly Virginia flavour with ample notes of Latakia and Oriental tobacco and has become my favourite in an instant. The room note is mild and pleasant (if you enjoy cigars and pure tobacco notes). It lights easily, burns beautifully without residue and has virtually no nicotine kick. It is less harsh than Nightcap and 965, which I like, but just a little more pleasant and reserved no matter what pipe I use. I certainly recommend this to all lovers of English blends, especially if you are into pure and natural tobacco flavours.

| | |
| --- | --- |
| Brand | Alois Dallmayr |
| Blended By | Dallmayr |
| Manufactured By | Dallmayr |
| Blend Type | English |
| Contents | Latakia, Oriental/Turkish, Virginia |
| Flavoring | Other / Misc |
| Cut | Ribbon |
| Packaging | 50 g Tin, Tin Pouch |
| Country | DE |
| Production | Unknown |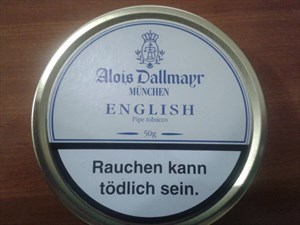 Please login to review this blend.