Cornell & Diehl
Warped: Cloud Hopper
(3.53)
Finest Virginia, Cigar Leaf, & Perique Blended by aficionados Kyle Gelllis & Jeremy Reeves An adventurous medley of AA Dominican Criollo, traditional Italian air-cured leaf, Yellow and Red Virginia tobaccos. Complex tones of earth, warm spice, coffee, and cream comfort weary travelers as a delicate sweetness and exhilarating notes of citrus give them the energy to keep pushing forward, A modest portion of Perique adds an unexpected stop along the journey, inspiring and enchanting all who wander.
Notes: Known for their boutique, Cuban style cigars, Warped is curated and supervised by founder Kyle Gellis, an entrepreneur and lover of all things bespoke and luxurious. He has a taste for finery and approaches his ventures with rigorous standards of perfection that are applied to the slightest of subtleties. Such a mindset translated naturally when Warped expanded into pipe tobaccos in 2019, seeing Kyle Gellis collaborate with Cornell & Diehl's Jeremy Reeves to create nuanced blends, marked by quality components and intriguing flavor profiles that align with Warped's "be exclusively different" mantra. Cloud Hopper, another creation by Gellis and Reeves, now joins Warped's selection of pipe tobaccos as a regular production blend. It takes its name from Warped's Cloud Hopper cigars, which Kyle made with his brother to celebrate their shared love for travel. Cloud Hopper pipe tobacco features AA-grade Dominican Criollo cigar leaf (the same varietal used in The Haunting), married to traditional Italian air-cured tobaccos, yellow and red Virginias, and perique pressed and cut into flakes. The blend transports pipe smokers to an adventurous flavor profile of complex notes of earth, spice, and citrus, while hints of cream and coffee offer comfort along the road. It's a mixture free of added flavors, meant to showcase the natural profile of quality tobaccos.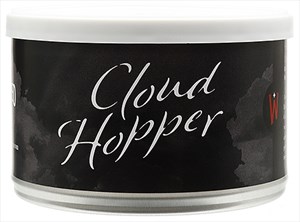 Where to Buy
SmokingPipes.com
Details
| | |
| --- | --- |
| Brand | Cornell & Diehl |
| Blended By | Gellis and Reeves |
| Manufactured By | Cornell and Diehl |
| Blend Type | Cigar Leaf Based |
| Contents | Burley, Cigar Leaf, Perique, Virginia |
| Flavoring | |
| Cut | Flake |
| Packaging | 2 ounce tin |
| Country | United States |
| Production | Currently available |
Profile
Strength
Medium
Extremely Mild -> Overwhelming
Flavoring
None Detected
None Detected -> Extra Strong
Room Note
Pleasant
Unnoticeable -> Overwhelming
Taste
Medium to Full
Extremely Mild (Flat) -> Overwhelming
Please
login
to post a review.
Displaying 1 - 11 of 15 Reviews
| Reviewed By | Date | Rating | Strength | Flavoring | Taste | Room Note |
| --- | --- | --- | --- | --- | --- | --- |
| | Sep 18, 2023 | | Very Strong | None Detected | Full | Pleasant to Tolerable |
Ok ok ... need to say, I'm a big Warped fan.
Whenever I visit my sister in Dusseldorf, I always try and grab a few of their cigars.
I've got a stash of Kings Stride, Until the End, Sarto, the Red Hunt, and now Midsommar. However, I've never smoked Cloud Hopper.

This was rectified this weekend.

Tin note was strange ... it smelled like Paris during the trashmen strike. Garbage and chocolate. The garbage note is a combination of over-ripped red fruit left out on the kitchen counter during a warm summer day and the high humidity of the tobacco in the tin. After drying, it was mostly the earthy leathery chocolate combined with Perique and some Virginia hey and bread notes.

Lighting it was a breeze , smoke was dense and creamy. The Dominican Criollo leads the way , with the Italian in second place. VAs and Per provide sweetness and support.

Brilliant smoke. Had a great time smoking it. This is the perfect crossover tobacco that would bring a cigar smoker over to the pipe hobby. tons of smoke, retrohale was peppery and a little spicy and you could feel the perique playing with the cigar tobaccos. Smoke was consistent, very few relights were required and it burned to grey/white ash without leaving condensation on the button of the chamber.

It's a brilliant evening tobacco. Full of nicotine and full of taste.
My friend had a bowl and we had to resuscitate him with some sugar as he wasn't expecting "vitamin N" to be so abundant in this blend. Please smoke on a full stomach, with some glucose in your bloodstream.

Again ! Kyle and Jeremy didn't disappoint.
Stocked the cellar with 3 more tins.

===========[F O U R S T A R S]============
Pipe Used:
2003 Ashton pebble grain billiard
PurchasedFrom:
smokingpipes dot com
0
people
found this review helpful.
| Reviewed By | Date | Rating | Strength | Flavoring | Taste | Room Note |
| --- | --- | --- | --- | --- | --- | --- |
| | Mar 28, 2020 | | Medium to Strong | None Detected | Medium to Full | Pleasant |
The peaty, woody, muddy, coffee-like, mildly grassy, vegetative, floral, smoky, leathery, cedary, lightly sour, creamy and spicy, herbal, tart and tangy citrusy, rough edged AA grade Dominican Criollo cigar leaf is the lead component. The spicy, raisiny, plumy, earthy, woody, stewed prune-like Louisiana perique is a strong supporting player. The red Virginia offers a bit of tangy dark fruit, some tart and tangy citrus, earth, wood, plenty of bread, and small floral, spice, sugar notes. It's just below playing a secondary role. Right behind that is the Italian air cured, earthy, woody, toasty, nutty burley. The grassy, tart and tangy citrusy, lightly floral and sugary bright Virginias also have a pinch of spice as a condiment. The strength is a step past the medium mark, while the taste is a slot past that level. It has a medium nic-hit. No chance of bite, but it does have a few rough edges. The flakes are a tad moist, but I did not feel the need to dry them. Burns cool, clean, and a little slow with a very consistent sweet, mildly creamy, moderately savory, lightly sour, spicy, floral flavor that translates to the pleasantly lingering after taste and room note. The latter aspect is surprising since cigar blends tend to be a little pungent. Hardly leaves any dampness in the bowl, though it requires some relights. Not an all day smoke, but it is repeatable. I suggest a wide bowl to fully capture all of the characteristics of the various flavors. Three and a half stars.

-JimInks
19
people
found this review helpful.
| Reviewed By | Date | Rating | Strength | Flavoring | Taste | Room Note |
| --- | --- | --- | --- | --- | --- | --- |
| | Jun 07, 2020 | | Medium to Strong | None Detected | Medium to Full | Pleasant |
Cornell & Diehl - Cloud Hopper.

As the late Matches860 once said, an Ultimate Smoke can happen with almost any blend, depending on the situation, location, etc. That was the case with this.

I keep a selection of blends in my kitchen for various times of the day. VaPer: mornings, aromatics: evenings, etc. Having depleted my tray of a few flakes I wanted another on the go, so opened this a little 'blind'; just grabbed it, opened it, and read the ingredients after. Good job I never checked as if I'd have read it contained Cigar Leaf I wouldn't have bothered and would have missed out. But this isn't like most CL blends.

The tin holds more of a broken flake. Some still has a flake form but breaks up with the slightest touch. The nose is one of cigars but there's a more than obvious aroma of rich fruit from the Virginia and Perique. My moisture seemed perfect.

Now, the Ultimate Smoke feeling may have been partly caused by me being pipe starved a few days ago, and this being my first bowl of the day at about 6pm! That aside, it's darn good. The cigar leaf, although running things, isn't too dry or austere tasting. Yes, it's a CL flavour, but rather smooth and mellifluous. The red Va outweighs the bright, and along with the Perique, creates a very luxurious flavour of dark fruit. The bright VA gives a touch of sharpness but is more evident for the first five or so minutes. The burn's extremely reliable, and I get no bite. The only 'not so good' appurtenance is temperature: it can creep past medium when chugged. But, lol, an easy fix is don't chug it!!

Nicotine: more than enough. Room-note: not heavy.

Cloud Hopper? Like I said, even though I normally shy away from this genre it gave me one of the best smokes I've ever had. Four stars with delight:

Highly recommended.


Pipe Used:
Savinelli Roma Lucite
PurchasedFrom:
Smokingpipes.com
Age When Smoked:
12/16/19
15
people
found this review helpful.
| Reviewed By | Date | Rating | Strength | Flavoring | Taste | Room Note |
| --- | --- | --- | --- | --- | --- | --- |
| | Jan 18, 2020 | | Medium | None Detected | Medium to Full | Unnoticeable |
I was online browsing about a week ago and saw this one and bought it as it appeared to be something new on the market and different. This tin dated 12/16/19 is barely a month old. Upon opening the tin, I was greeted with some nice brown flakes with a distinctive sweet, slightly fermented sourish smell but in a good way. I asked the missus to smell this one and the only thing that could come to her mind was the scent of pears. Obviously, it is not a flavored tobacco but there is a sweetness to the tin note. I took a flake and folded it and rubbed it out between my fingers and put it into a cob. The first 3rd of the bowl I did not get much but then like turning on a light switch the flavors kicked in. I also got a little nose tingle which from past experiences is the Perique kicking in. The Criollo leaf which means 'native seed' really gives this blend a nice rich dark taste to the smoke. I really enjoyed and do not anticipate the tin lasting very long. The flakes were a little moist so for those who dry out their tobacco which I do not you might want to let it rest for a short period of time. Also, this is only the second time I have ever been the first to review a blend. Lucky me.
13
people
found this review helpful.
| Reviewed By | Date | Rating | Strength | Flavoring | Taste | Room Note |
| --- | --- | --- | --- | --- | --- | --- |
| | Jun 24, 2020 | | Medium to Strong | Extremely Mild | Medium to Full | Tolerable |
Cloud Hopper is a swell blend from the Warped sector of C&D. They start with a first quality VA/Per, then they add cigar leaf. Their blurb also mentions "traditional, Italian air-cured leaf", but I could not sort it out from the cigar leaf. There's no Latakia, and there's no mention of KY. My tin is dated 05-19-20. Inside the tin are broken flakes ranging from tan, to red-brown, to dark brown. Tin note is slightly musty, spicy, loamy, cigar-ish, some musty cocoa, mushrooms, dark fruit leather, bready, and figgy. I dry it some and loosely stuff bundled, chunky "ribbons" vertically into a cigar blend briar. It handles, loads, lights and smokes down just fine. As for tastes, to me, CH might be a good VA/Per with KY, or maybe Sansepolcro. The first taste up, that stays on top through the smoke, is the cigar-ish leaf. It is rich and dry, and mildly spicy, but not like a strong cigar, and the cigar spices are well melded and enriched with bakery spices from the Perique. The bright and red VAs alike also meld with the Perique, but on the grassy, fig and musty wheat bread level. Either the air-cured leaf tempers the cigar leaf, or the cigar leaf is mild for the genre. It's taken a while for me to figure out that there are some subtle complexities here, but I tend to just puff away, because CH works very well for me as a blend. It's well balanced enough to make it relaxing. Strength is just over medium. I pull until the tastes are more full than medium. Room note is tolerable. Aftertaste is a long trailing off of the best of the smoke. For all the cigar leaf, Cloud Hopper rather reminds me of a smoother HH Bold Kentucky. Anyway, it's plenty good in its own right, and pretty sure it will age very well. It's certainly benefited from rest. 4 stars.
Pipe Used:
dedicated cigar blend briars
PurchasedFrom:
smokingpipes.com
Age When Smoked:
rested a few weeks
7
people
found this review helpful.
| Reviewed By | Date | Rating | Strength | Flavoring | Taste | Room Note |
| --- | --- | --- | --- | --- | --- | --- |
| | Aug 22, 2020 | | Medium | None Detected | Medium | Pleasant to Tolerable |
A rather creamy, woody (but not burning wood, a la Latakia) medium smoke. Like most C&D flakes, they separate out into long easily packed strands. The mild cigar leaf, Perique, and VAs meld together quite well, the most cigar-like thing (at least for me) about smoking it is the aftertaste. For those who like blends on a darker side but not looking for Latakia or another brown flake blend, this is worth trying.
PurchasedFrom:
smoking pipes
Age When Smoked:
8 months
6
people
found this review helpful.
| Reviewed By | Date | Rating | Strength | Flavoring | Taste | Room Note |
| --- | --- | --- | --- | --- | --- | --- |
| | Nov 14, 2020 | | Mild | None Detected | Full | Pleasant |
Abridged: This is delicious! Creamy, full bodied smoke. More mild than medium nic hit. On palate I got notes of milk chocolate, caramel, almond nuttiness, & pure bliss. On the retrohale I savored the molasses, zest and pepper of the Virginia and Perique.

Extended: I've had the good fortune of smoking exquisite cigars from such manufactures as Davidoff, Arturo Fuentes, Montecristo, Padron, & others. The leaf in this blend is of high-quality. The taste and smoke of the blend is on par with any boutique producer, if not better. I initially bought one of each of the Warped tins when they came out, I smoked them as soon as I got them and I thoroughly enjoyed it! The beauty of pipe leaf is that it's easy to age, and so while my initial impression was positive, I decided to age mine for six months before revisiting. This aged wonderfully! I am going to buy several tins to cellar.

I look forward to future blends from the Warped line up, and wish Jeremy Reeves & Warped GODSPEED!
4
people
found this review helpful.
| Reviewed By | Date | Rating | Strength | Flavoring | Taste | Room Note |
| --- | --- | --- | --- | --- | --- | --- |
| | Jun 07, 2020 | | Medium | None Detected | Medium to Full | Strong |
The presentation is beautiful. Nice flakes and an earthy cigar smell. There is somewhat of a VaPer smell in there too, but it's playing sidekick to the cigar smell. For me this is an all-day kind of blend. It's never overwhelming, and for the most part, it's quite round and delivers a relatively smooth experience. The quality is there.

Notes of bread, some fruit tang, bitter woody notes, bitter vegetal notes, earthiness. I got a distinct cumin note in there too. Never had that in a tobacco blend.

To me the blend just didn't seem cohesive at many points. You get notions like the band is all playing together, but they have a trumpeter that cuts off the solos from the others sometimes—like Shadow in Mo' Better Blues (needed his own band).

I'm left with the impression that the blend is good, but not great because there's that something that just isn't right. It really evolves as the tin gets more air, and I would recommend it to anyone that likes Virginia blends, or anyone that is looking for a little bit of the cigar taste in a pipe tobacco. The strength and taste are medium. Nicotine is noticeable, combustion is good, and it behaves well. Give it a shot. It's somewhat of an interesting one. Three stars.
Pipe Used:
Various briars
PurchasedFrom:
Smokingpipes
4
people
found this review helpful.
| Reviewed By | Date | Rating | Strength | Flavoring | Taste | Room Note |
| --- | --- | --- | --- | --- | --- | --- |
| | Jul 07, 2021 | | Medium | None Detected | Medium | Pleasant to Tolerable |
I smoked cigars before I started smoking a pipe and I have to admit they are very different experiences. That being said time has found me predominantly a pipe smoker, though I do enjoy cigar crossover blends. So when I saw the Warped/Cornell and Diehl joint venture I had to give it a try especially since they omitted Latakia from most of the blends in their lineup. To date most cigar crossovers are done with an English style. This blend is the combination of a typical VaPer blend, with Dominican Criollo added.

The tin is plain and simple: minimalism at its best. When I opened my tin for the first time I found a typical C&D broken flake. The tin note smells of sweet raisins, matured Red Virginia, citrusy Yellow Virginia, plummy Perique, toastedness. The smell is really inviting from what you'd expect. It does come at a perfect moisture to pack and light. It takes a flame really well and only needs a few touch-ups.

When lit the complexity is striking. There is a very distinct floral note from the cigar Leaf along with herbal sweetness. The Red Virginias add a body of breadiness, while the Yellow Virginias balance that out with a pronounced citrus and hay. This blend is filled with rich, natural tobacco sweetness. Coming up behind is the Perique which adds plummyness, and spice. Now the cigar Leaf has spice too but it's melded and balanced by the other components. This blend burns mice and slow, and also pretty cool.

The taste is a medium on the cusp of medium-full. It wants to fill your mouth, but not in the way Purple Cow another C&D cigar blend does. The strength is a medium again on the cusp of medium-strong only because of the Perique. I have had a light breakfast and I can feel a light tug at the back of my throat and that's about it. The room note is very interesting. It doesn't carry that heavy cigar aroma, and smells more like a typical VaPer with something extra. An excellent blend and one that I will buy more of.
Pipe Used:
Peterson Short 150 Bulldog
PurchasedFrom:
Smokingpipes.com
3
people
found this review helpful.
| Reviewed By | Date | Rating | Strength | Flavoring | Taste | Room Note |
| --- | --- | --- | --- | --- | --- | --- |
| | Aug 10, 2022 | | Medium | None Detected | Medium to Full | Tolerable to Strong |
Serendipity at last. For years, I worked at a B&M tobacconist, being the one resident piper. I learned much about cigars, and much more than I knew about pipes and tobacco. Although we may have parted ways- not entirely amicably- I still occasionally hanker for a nice cigar. Although I do have a rather sizeable humidor, I like the idea of cigar-leaf pipe blends. That said, I've found they (almost) always fall short of my expectations; most cigar varietals invariably overtake the other components of a pipe blend. This one finally hit the mark. Tin note lets you know that this is definitely a VaPer, or at least a close relative. I recommend packing and smoking at the shipped moisture; strong burleys (of which cigar varietals are all descendants) tend to behave better with some humidity. You wouldn't dry a fine cigar, would you? With two thorough lights, we are off to the races. It shows both halves of its pedigree well, presenting the wood, pepper, and dark fruit of a strong red VaPer along side the leather and savory spices of Criollo leaf. Another review mentions cumin; I'll agree to that, and add saffron. It reminds me of my first taste of the LFD Andalusian Bull, which I followed with a bowl of Bayou Morning Flake. My tolerance was higher in those days. Nicotine is moderate; less than you might expect, but enough that you should be aware of it. Smokes slow, dry, and leaves the bowl clean. Room note is not likely to be a crowd pleaser, unless it's a crowd of cigar aficionados. Now, I feel I should address the disparity between this and its close cousin, King's Stride. Perhaps it is the choice of cigar leaf that makes the difference; in KS, the Corojo Cavendish dominates entirely, while in CH, the Criollo serves to accent the other tobaccos. I feel that the components are quite similar, beyond those variables. Goes to show how one sour note can spoil a symphony. It also bears mentioning that this is the youngest blend I've ever smoked; the tinning date was only three days before it arrived at my door. Demand must be brisk.
Pipe Used:
Bones Sausage, Charatan Egg
PurchasedFrom:
Smoking Pipes
2
people
found this review helpful.
| Reviewed By | Date | Rating | Strength | Flavoring | Taste | Room Note |
| --- | --- | --- | --- | --- | --- | --- |
| | Feb 10, 2023 | | Medium to Strong | None Detected | Medium to Full | Pleasant to Tolerable |
A pleasant surprise at first, although after smoking it a few times I got a bit tired. Perique, burley, and cigar leaf make a combination that works quite well, but I don't think it's an everyday tobacco. You might like it if you enjoy smoking the earthy burleys in the style of Pegasus, Briar Fox, or the Tabac Manil tobaccos from the Pure Semois series. But above all, a good reference would be Acadian Perique by Mac Baren, if you like that tobacco but you missed a little more perique, its presence is noted here. And in my opinion, it is a very fruity perique that is mixed here with the burley and the cigar leaf, so if it is smoked every day it can even be a little tired. This has made the time that passes between one pipe and the next more and more distant. Nonetheless, it is a rather unique tobacco. I have not found any similar to it except for the aforementioned Acadian Perique that I like a little more because it is lighter than this one.

The Cornell and Diehl series with Warped is extremely interesting. None of the tobaccos I've tried from this series have left me indifferent...
1
person
found this review helpful.