(3.50)
A deep dark blend of extra gentle black cavendish with just a small trace of broad cut Virginia. The delicious flavor of orange and mandarin extracts with a discreet whiff of vanilla was specially composed for this tobacco creation and brings out a wonderful depth of taste never achieved till now. This premium blend is the embodiment of all our passion for highly aromatic tobaccos.
Notes: The name for the tobacco is actually BiBo, meaning Biker & Bolzer (slang for "kicker"), relating to Michael Apitz and his "Buddy". It was then introduced to the US market under the name "Buddies", because the real name has no meaning outside the German speaking world.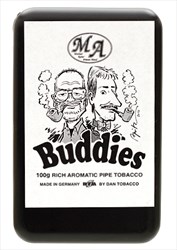 Where to Buy
SmokingPipes.com
Details
| | |
| --- | --- |
| Brand | Dan Tobacco |
| Series | Michael Apitz |
| Blended By | Michael Apitz |
| Manufactured By | Dan Tobacco |
| Blend Type | Aromatic |
| Contents | Black Cavendish, Virginia |
| Flavoring | Fruit / Citrus, Orange, Vanilla |
| Cut | Ribbon |
| Packaging | 100 grams tin |
| Country | Germany |
| Production | Currently available |
Profile
Strength
Mild
Extremely Mild -> Overwhelming
Flavoring
Extra Strong
None Detected -> Extra Strong
Room Note
Very Pleasant
Unnoticeable -> Overwhelming
Taste
Medium to Full
Extremely Mild (Flat) -> Overwhelming
Please
login
to post a review.
Displaying 1 - 2 of 2 Reviews
| Reviewed By | Date | Rating | Strength | Flavoring | Taste | Room Note |
| --- | --- | --- | --- | --- | --- | --- |
| | Mar 22, 2015 | | Mild | Extra Strong | Medium to Full | Very Pleasant |
DTM BiBo/Buddies deserves a new definition of the term aromatic. This BC/VA is cased and flavored in a way, that you'll have the impression of "smoking" a shisha, rather than a tobacco pipe. Everything is FANTA orange here, even the box/cabinet/room where you store it, so you might want to keep this one in quarantine! According to MA himself, it was developed for pipe smokers, who can appreciate a high quality topping and have it present all the way throughout the bowl. Well, that's accomplished. I like it filtered only during the summer with a cold drink or water.

If you are looking for actual tobacco taste, feel or nicotine, look elsewhere. If you like the extreme and want to explore the natural limits of how far casing in tobacco can go, this is the answer. A love or hate blend for most I guess.
Pipe Used:
Various with and without filter
PurchasedFrom:
http://www.tecon-gmbh.de
6
people
found this review helpful.
Please
login
to upvote this review.
| Reviewed By | Date | Rating | Strength | Flavoring | Taste | Room Note |
| --- | --- | --- | --- | --- | --- | --- |
| | Oct 29, 2020 | | Medium | Very Strong | Very Full | Very Strong |
Was curious about this blend for a while and was hesitating due to the price and not being able to get a smaller sample first. Dan Buddies is a STRONG ORANGE flavor and as the other reviewer mentioned, if you don't like Aromatic blends there is NO WAY you are going to be able to appreciate this stuff. If you have been looking for a Orange flavored blend that actually delivers the flavor rather than just a tin note then this may be what you have been hunting for. The scent from the tin is very similar to Orange Tang or similar Orange Powder Drink and is strong and unmistakable. It does change a bit as the bowl gets going, but for the most part this one hit the mark and delivers as promised a Orange Blend different from anything else. Closest thing would be Rattrays Exotic Passion as they both come in the same style tin/packaging, but flavor wise they are very different. Dan Buddies is also great for adding a touch of Orange flavor to any other tobacco you wish and is a great way to tone down the strength if you find it overpowering.
Pipe Used:
Unknown Estate Pipe, Weber
PurchasedFrom:
Boswells Pipes
1
person
found this review helpful.
Please
login
to upvote this review.