G. L. Pease
Chelsea Morning
(3.43)
Sweet red and bright Virginias, fragrant Orientals, a bit of rich Cyprus latakia, and just a pinch of perique. The leaf is blended in layers, briefly pressed, then sliced and tumbled into ribbons. Lively and engaging, with a subtle fruitiness, and an elegant, creamy texture, it's a great bowl to accompany the morning cup.
Notes: Chelsea Morning was introduced in October, 2009.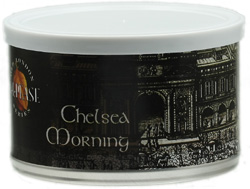 Where to Buy
TobaccoPipes.com
Cup O' Joes
SmokingPipes.com
Details
| | |
| --- | --- |
| Brand | G. L. Pease |
| Series | Old London Series |
| Blended By | Gregory Pease |
| Manufactured By | Cornell & Diehl |
| Blend Type | English |
| Contents | Latakia, Oriental/Turkish, Perique, Virginia |
| Flavoring | |
| Cut | Ribbon |
| Packaging | 2 ounce tin, 8 ounce tin |
| Country | United States |
| Production | Currently available |
Profile
Strength
Medium
Extremely Mild -> Overwhelming
Flavoring
None Detected
None Detected -> Extra Strong
Room Note
Pleasant to Tolerable
Unnoticeable -> Overwhelming
Taste
Medium
Extremely Mild (Flat) -> Overwhelming
Please
login
to post a review.
Displaying 1 - 10 of 161 Reviews
| Reviewed By | Date | Rating | Strength | Flavoring | Taste | Room Note |
| --- | --- | --- | --- | --- | --- | --- |
| | Mar 26, 2010 | | Mild to Medium | None Detected | Medium | Very Pleasant |
A delightful combination of tobaccos that work to perfection! Chelsea Morning is one of those rare blends that is not too strong yet pours waves of flavor over the palate. The tin note is that of stewed prunes and slight hints of Latakia. At the match the leaf delivers volumes of thick, rich and creamy smoke and stays lit well.

I want to say that Chelsea Morning was a bit like smoking Dunhill's Early Morning Pipe with an added Perique taste, but frankly, this one is stronger in taste. Near the bottom of the bowl the Perique is more evident.

I can see where this one will be enjoyed by the masses with few detractors. It simply has a little something in it for everyone (well, almost everyone).
72
people
found this review helpful.
| Reviewed By | Date | Rating | Strength | Flavoring | Taste | Room Note |
| --- | --- | --- | --- | --- | --- | --- |
| | May 28, 2011 | | Mild to Medium | None Detected | Mild to Medium | Pleasant to Tolerable |
This blend has the distinction of being the finest pipe tobacco blend to miss my rotation, an "honor" once reserved for GLP Abingdon. They both qualify for essentially the same reasons.

After falling heavily for the other two blends in this series, I decided to give this one a spin. This one has twice the complexity of the other two combined. Not just in one bowl but from bowl to bowl, this one showed many different faces. If there are any pipesmokers that listen to a lot of Iannis Xenakis' music (besides myself), you'll understand the complexity factor. And yet a lot of it seemed randon, like it showed whatever face it felt like at the times it felt like showing it. As a result, this is one of more intriguing blends I've ever smoked, the same as with Abingdon. Smokers of heavy latakia blends should try that one, just as those who favor a lighter hand should absolutely try this one. This one is everything that Dunhill EMP promised but failed to deliver. IMHO, this blend fills the "early morning" niche ten times better than the venerable Dunhill. No limp wrists here.

So why did this not make my rotation? Well, whereas I can't give this one enough respect as what I refer to as a "genius blend", my heart overrules my head in matters of subjectivity such as taste. I simply didn't find enough punch to this one. It should be noted that I rarely smoke before noon. By that time, Quiet Nights is calling - or Meridian. But if those two are too much for you and you prefer a milder taste but still fulfilling, and you enjoy complexity to the Nth degree, you absolutely HAVE to smoke this. It's a must. Instead of Dark Lord, I'm going to refer to Greg Pease as the Thinking Man's Blender. His blends are often puzzling, sometimes confounding, but all of them are worth a serious audition. The rewards will be plentiful.
49
people
found this review helpful.
| Reviewed By | Date | Rating | Strength | Flavoring | Taste | Room Note |
| --- | --- | --- | --- | --- | --- | --- |
| | Jan 20, 2015 | | Mild to Medium | None Detected | Medium | Tolerable |
The red Virginia provides tangy dark fruit, wood and earth with a light breadiness as the lead component. The bright Virginias are grassy with a touch of tart and tangy citrus as a supporting player. The Cyprian Latakia is smoky, woody, earthy, slightly musty, sweet, but is a minor player. The earthy perique is also a minor ingredient, being more raisiny and plumy than spicy. The Oriental/Turkish are floral, woody, earthy, herbal, vegetative, slightly sweet and more sour, indicating that Izmir is one of the tobaccos, and are noticeable in every puff, sometimes dominating the other components. It's more of a dry than sweet smoke with a little creaminess, but there's a few harsh spots here and there after the half way point. Has a slightly more than mild nic-hit. The strength is just past the center of mild to medium, while the taste is medium. Won't bite, but has a few rough edges. Burns clean and slow with some necessary relights, and leaves a little moisture in the bowl. Has a little inconsistency in flavor. Has a decent, short lived after taste and stronger room note. Almost an all day smoke. More of a two and a half star blend, mainly because the individual tobaccos don't seem work together as well as they should. Some reviewers suggest it improves with age, but my observations are from a freshly opened tin.

-JimInks
33
people
found this review helpful.
| Reviewed By | Date | Rating | Strength | Flavoring | Taste | Room Note |
| --- | --- | --- | --- | --- | --- | --- |
| | Apr 25, 2014 | | Mild to Medium | None Detected | Mild to Medium | Pleasant to Tolerable |
Dunhill's Early Morning Pipe was my go to morning bowl. Was. Now Chelsea Morning fills that place on the roster. This tobacco is perfect for starting the day. It has notes of mild spice and a wonderful creamy smoke. About midway through the bowl, a toasty nuttiness emerges and completely compliments a nice hot cup of coffee.

This tobacco is best enjoyed by smoking it slowly. This blend is made for lazy morings. I am just thankful that I have a long commute so I can fully appreciate the nuances of this blend.
Pipe Used:
Bob White Billiard, Mastro De Paja Bent Apple
PurchasedFrom:
Smoking Pipes
28
people
found this review helpful.
| Reviewed By | Date | Rating | Strength | Flavoring | Taste | Room Note |
| --- | --- | --- | --- | --- | --- | --- |
| | Feb 21, 2016 | | Mild to Medium | None Detected | Medium | Pleasant |
G. L. Pease - Chelsea Morning. Every so often I'll open a tin or pouch of tobacco and it will leave feeling me pretty much incredulous at its brilliance! That's the exact situation here; it took me only one puff to realise the eminence of this blend! To give more detail, I'll start at the beginning:

As I've said before, I often find the terms used to describe tobacco can be a touch misleading, the main culprits being ribbon and broken flake. To me, this falls just below being a broken flake; the tobacco has all been broken so there's no big pieces of flake in there but it's still a lot coarser than many ribbon cut blends. To me, the un-lit aroma seems pretty mellow. I can identify a very subtle plum note and maybe a slight smokiness but other than those I don't find it to be at all potent. Moisture, ahh, the moisture; absolutely PERFECT. This means I can fill and smoke immediately; that brings me nicely onto part two, the smoke!

This lights superbly; I just use a quick touch from my normal flame lighter, a jet flame would be completely superfluous. Then it gives a great and steady burn. The flavour blows my mind. It has to be one of the most perfectly rounded blends I've had. I don't find that the Latakia hogs the playing field at all. It gives a pleasing cedar/wood note but it doesn't make any other taste redundant with it's smokiness. The way the Perique has been included is interesting. I feel it's used more like a garnish, it just picks the smoke up a bit with zing! The texture of the smoke is beautiful. It's very smooth, thick, and creamy. The pleasure is embellished by a cool temperature and zero tongue bite. The nicotine amount is about medium, for a morning smoke I think some folks would prefer something a little more formidable in the N department!

I can't sing the praises of this remarkable blend high enough. The smoking qualities are impeccable from Chelsea morning. Perfectly rounded, cool, and creamy. Highly recommended.

Four stars.


Pipe Used:
Levent Meerschaum Claw
24
people
found this review helpful.
| Reviewed By | Date | Rating | Strength | Flavoring | Taste | Room Note |
| --- | --- | --- | --- | --- | --- | --- |
| | May 14, 2014 | | Mild to Medium | None Detected | Medium | Tolerable |
A mixture that could be smoked all day, an English that borders on the "Balkan" as the Orientals are very present. I like the creamy, slightly sweet and sour notes that are accompanied by a woodsy taste. The Perique picks up as the bowl progresses with more peppery accents. Overall a symphony of flavors, that is never in your face and never dull either.

Virginia lover
19
people
found this review helpful.
| Reviewed By | Date | Rating | Strength | Flavoring | Taste | Room Note |
| --- | --- | --- | --- | --- | --- | --- |
| | Jul 06, 2013 | | Medium | Extremely Mild | Medium to Full | Tolerable |
The first time I tried Chelsea Morning I was outdoors and it was windy, and I was in an agitated state of mind. I puffed way too hard and wrecked my mouth in short order, wound up clearing my throbbing palate with a bowl of Astley's 109! My next experience with the CM was much better, and the more I've smoked it since, the better I like it. If I have the time, this stuff really scratches my tobacco itch.

IMO, CM might be a natural choice for medium English smokers curious about the "GLP Mystique". CM almost fits an English profile, after all, to which it tastefully adds a few GLP bells and whistles. The deep-but-still-piquant tin note tells a lot, since the smoke follows suit, except the Latakia, although prominent in the tin, fades softly (but never departs) behind the Orientals and the Perique when CM is smoked, while the VAs run the show. I prefer to dry CM just a little, to best realize its complexity. It handles, loads, lights and burns down without fuss or bother. If one takes one's time, there are overtones galore, and a few undertones, as well. Subtle incense and exotic spices abound, but never at the cost of the first quality tobaccos. The range of VAs is perfect for this blend, providing and enhancing both the upper and the lower "registers" and making just the right balance of sweet, sour and spicy from the lot. The Orientals are slightly mossy/musty, and their spices are well-melded with those from the Perique, which also adds some fig. The Lat is simple and simply tasty. Though it's rather subdued, it's always present, and I would not discount its presence. The soft, lingering aftertaste is aftermath, only sweeter. Pushed, CM can bite, for sure, so don't push it. All the same, with practice it is possible to summon more flavor with longer pulls without penalty. Strength is medium, and flavors can range from medium toward full. I like the room note quite a lot, but YMMV, due to substantial Perique.

All considered, there are plenty of good reasons why so many (including moi) have named Chelsea Morning as a favorite.

Update, 11-16-15: I've lately been smoking CM from a tin dated 01-2015. It was very dry in the tin, with the color and consistency of ground particle board. Although the appearance is off-putting, it smokes and tastes fine, albeit it's not the same as earlier production, being less fruity, with fewer low notes. Oh well, plus ca change...
Pipe Used:
various briars
PurchasedFrom:
Liberty Tobaccos
Age When Smoked:
young and old
15
people
found this review helpful.
| Reviewed By | Date | Rating | Strength | Flavoring | Taste | Room Note |
| --- | --- | --- | --- | --- | --- | --- |
| | Apr 10, 2015 | | Medium to Strong | None Detected | Medium to Full | Tolerable |
Chelsea Morning is a great offering in the Old London Series! The tobacco is mostly of medium brown colour with some darker shades. It's definitively more of a broken/partially rubbed-out flake than a Ribbon cut. The tin note is very much the spiciness from the Orientals and hayness from the Virginias. It also has an underlying, deep earthy aroma that is very nice. The tobacco came to ideal moistness (just a tiny bit dry but still has some moisture). Breaking up the flakes is easy and so is the lighting up. Right from the start, Chelsea Morning is rich, earthy, spicy, and has an occasional smokiness from the Latakia and is very creamy. There could be, yes, something akin to a fruitiness developing past the half point. But it's always subtle. This tobacco burns beautifully, is extremely well balanced and is a true pleasure to smoke, and not only in the morning. Chelsea Morning is an outstanding Or/Va dominant blend, packs some good Vitamin N and I highly recommend it. I believe that Greg Pease has reached a unprecedented blending maturity in the release of the Old London series; which is, by far, my favorites offerings from this very talented blender.
Pipe Used:
Stanwell; Cygne; Dunhill
12
people
found this review helpful.
| Reviewed By | Date | Rating | Strength | Flavoring | Taste | Room Note |
| --- | --- | --- | --- | --- | --- | --- |
| | Apr 16, 2020 | | Medium | None Detected | Medium | Pleasant to Tolerable |
When I really got into pipes and tobacco about 10 years ago, I discovered the GLP line and spent hours pouring through his website, reading all I could, and getting deeper and deeper into the world of tobacco. I tried half a dozen GLP blends and loved them.

Chelsea Morning was the first new blend that Greg released after I discovered his line, and I immediately purchased a tin. From that point on, Chelsea Morning has been a steadfast favorite, tied for my #1 spot with Old Gowrie.

Chelsea Morning is so intriguing to me partly because, while it's a lighter bodied smoke, there is a whole lot of flavor in that smoke. It doesn't overwhelm your senses (you're not gonna get Billy Budd'ed), but gives you all of the complex, subtle flavors you could want—perfect for a lazy morning, or tea time smoke.

The sweetish VAs are dominant, with the Orientals providing a lot of musty, woody, almost incense like flavors. Latakia and Perique are sub-players, laying a foundation of deep flavors—figgy, raisiny pepper from the Perique, and here and there a wisp of campfire and leather from the Latakia season what, for me, is really a Va/Oriental blend.

Nicotine level is a strong Medium-enough to satisfy but not wallop you. I recommend a big bowl, and a slow pace with this one. Although I've never had it bite from fast smoking, a slower pace will certainly enhance the array of flavors.

It's wonderful with a cup of coffee on a lazy morning, and just as good with a cup of strong black tea in the afternoon. I tend to save Chelsea Morning for those times when I really want to sit back and enjoy a smoke for its own sake.

While living in the semi-wilderness in Michigan's UP, i would occasionally wake up in my rustic cabin around 5am, make a pot of strong percolator coffee, and watch the mist rise on a lake while smoking some Chelsea Morning for an hour or so. I'll always tie this blend to those memories!
Age When Smoked:
0-10 years
11
people
found this review helpful.
| Reviewed By | Date | Rating | Strength | Flavoring | Taste | Room Note |
| --- | --- | --- | --- | --- | --- | --- |
| | Nov 06, 2009 | | Mild to Medium | None Detected | Medium | Pleasant to Tolerable |
In the interest of full disclosure: I am in general am a fan of GL Pease, and his blends, and I was very excited for this new series, but I can honestly say, this blend is a true marvel. It exceeded my expectations, and showed me new things to be excited over that I hadn't even considered. I will do my best to quantify my reasons for such praise.

The aroma upon opening the tin, I think, is an experience very familiar to humans, but somewhat alien to pipe smokers. It has the character, and presents to the senses as food, more than construction. The familiar tobacco scents are indeed the components of the aroma, but, not in their usual voices. They are more unified and conformed than when they usually speak. Much like a stew, it no longer smells like each ingredients, though they are its composition, it smells like stew. That said, this is a delicious smelling stew of tobacco. It's almost shocking at first. Its savory, peppery, and a little sweet. The moisture level really worked for me, and i didn't need to let it air out at all.

The next thing you'll notice is the cut. It presents in long even strips that link, and fold in a way that really packs easily, and seems to facilitate a constant, and even burn. I am happy to report that Chelsea Morning gave me my first ever "one light burns to ash at the heel" experience. It just puffed on and on, with no threat of overheating, biting, or smoldering out.

I think perhaps that both the special type of aroma and cut are due to the new process. I hate to assume, or suppose on these matters on which i am uninitiated, but I suspect the new process unified the cut, flavors, and aromas so that they harmonize the way they do-which is in a way I have never experienced in tobacciana.

And once you light this new strange friend, you see, taste, and smell the effect of those new presentations of form. Many blends have the feeling of an orchestra, or a large festival chorus. You get a large number of people for the large sound, and add as many altos as you need to have them heard with the sopranos, and after tinkering with the numbers, you have a big, full chorus, with a big four-part sound. This blend is like the smaller Hilliard Ensemble singing Renaissance motets. The voices are so tuned with each other, so unified that their voices blend like the sound of one instrument, singing chords so tightly tuned you can not hear the individual voices, only let the tones blanket over you in their perfect weave. Its as though the Latakia "listens" to the Virginia and adjusted its volume to bring out the frequency marriage to make their harmony really zing. The perique hears the lower tones of the orientals and sings with a covered tone as to not clang against it, but stay in the pocket and make the chord grind, and thrill.

The taste? Well, it is hard to describe really in concrete terms. It's buttery, and nutty, and zesty...and also not. It is what it is. It doesn't taste "like" anything, to me. It is almost as if its separate properties have their own characteristics. Its taste is wet, but its mouth-feel is dry. I'd say, maybe dried figs, and citrus come to mind. But, truly, it has a taste all its own. This blend will "bowl you over" (wink) not with its tidal wave of taste, as it was not intended to, but rather with its ontology. You will marvel at its very nature of being, and at the success of its incarnation. The taste itself is perfectly pleasing, surprising, and a truly delicious breakfast.

Everyone reacts differently to new things, and I think this is no exception. I have always been something of a smoking omnivore. I smoked cigarettes for years, then moved on to cigars, and then added pipes. This is a blend that reaches across all those smokes, and takes their best parts, and sings a whole new fusion. It has a piece of all of them, the slighter, and slimmer taste character of a cigarette (a stretch of a comparison-it doesn't taste LIKE a cigarette); the consistent draw and burn of a cigar, and the variable volume draw, developed flavor and savory plot line of a artisan pipe full.

So, I could imagine there there might be some who have no long-term use for this blend, as they will miss its finer points-much in the same way I can imagine that a Metallica roadie might not enjoy Palestrina. The types that want ONLY to have their senses be overwhelmed by a heavy-fisted blend, would come away from this blend let down. There is of course nothing wrong with huge overwhelming blends, and I don't at all mean to suggest they they are only for the unrefined. Heck, all my other favorites are big sluggers for the most part. Yet, to those who are admirers of quality in all things, even if it may not be their cup of tea: I can never imagine a derisive word being aimed in Chelsea Morning's direction. It is perfect- in that its nature, and existence are fully realized. That is, it is a smashing success at just what it was set out to be.

Also, its worth saying that I can think of NO reason this could not be an all-day blend in two ways: background music, and object of study. If one wanted a pipe to simply fume in their mouths all day, this would fit the bill very well, as it is a very tame blend, and wont scorch you if you absent-mindedly start to really chug it. And, to those who have the luxury to devote attention directly to their pipes, there is much for your palate to contemplate throughout the day once you let your tongue go to the tobacco, as opposed to the other way around. Yes, I know it wasn't designed as an all-day, as it is meant to be the morning leg of an "all-day" series. And I am here to tell you, if the other blends in the "Old London" series are anywhere near as fine specimens in their rites as Chelsea Morning is in its own-it may well just become my entire rotation!

So, yes, I am a BIG fan of "Chelsea Morning" for lots of reasons. And I honestly think that if you are a lover of pipe smoking, this is sure to hold a special place in your heart. Even if your tastes lay in other tins, you will surely hold this blend as a masterpiece in the art of tobacco blending. There is no blend I recommend before, or higher than this one.
11
people
found this review helpful.